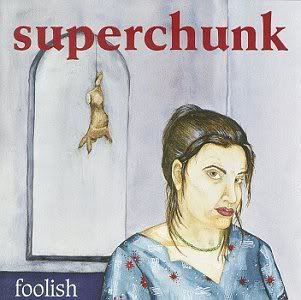 Artist
: Superchunk
Album
:
Foolish
Label
: Merge
Year
: 1993
Foolish
represented a turning point for indie rock pioneers Superchunk in a lot of ways. First off, though the band had founded
Merge
Records, this is the first album of Superchunk's that label released (Matador was responsible for the first three). More importantly, however, the band was at a personal crossroads, as Mac and Laura (lead singer and bassist, respectively) had split up romantically, and the effects are not only felt in Laura's damning cover art, but Mac's lyrics as well.
Foolish
is quite possibly
the
early-adulthood breakup record. There are many "breakup" records, and there will be more on this list. But regardless of the actual age of the bands making those (Van Morrison was under 25 at the time of
Astral Weeks
for example) most great breakup records have an unbelievable sense of maturity for the artist recording them.
Foolish
however, is a rare instance of early-20 somethings singing about the early-20 something blues, and not sounding like jackasses.
There are songs that deal with reminiscing the good times ("Driveway to Driveway"), the moment you realized it all went wrong ("Like A Fool"), one of those many, many fights ("Why Do You Have to Put a Date on Everything") and of course, the breakup itself ("Keeping Track"). We've all been there, and in true Superchunk fashion, Mac sings about it in ways we can all relate to. In the course of such great songs, the music kicks ass, too, with some of the hardest rocking and anthemic songs the band ever did.
So with such high praise for the record, why do I have it down at 97? Sequencing. Songs 1-9 are absolutely stellar and done brilliantly, and then there are songs 10-12, which are amazing, don't get me wrong...but why not close with the gut-wrenching "Keeping Track"? Why end it on such a muted note as "In A Stage Whisper"? I don't know. Every song kills, but this continues to irk me.
Foolish
remains one of the best guitar records of the 90s though, and is a perfect companion for those recently-single blues.