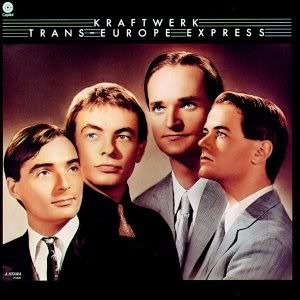 Artist
: Kraftwerk
Album
:
Trans-Europe Express
Label
: Capitol
Year
: 1977
Trans-Europe Express
was not the first great album by Kraftwerk, nor even their first masterpiece. That title belongs to 1973's
Autobahn
. Nevertheless, more than 30 years after its release, T-E-E remains the group's most celebrated album, and for good reason. Cohesive themes and amazing melodies make this album today as enjoyable as it's ever been.
Autobahn
's title track was a hit that nobody predicted, but 1975's
Radio-Activity
didn't really capitalize on the group's success, and in a lot of ways, was a step back for the group. Their early (read: first 3) more experimental records were good, but what made
Autobahn
so great was its full sound and beauty. The 1975 album was almost jerky at times, and not as easy to listen to. But
Trans-Europe Express
helped not only to permanently establish Kraftwerk as all-time greats, but stands on its own, independent from the band's reputation, as a land-mark album.
The album is full of paranoia and ease--like a
Kinks
record in a way, it sarcastically celebrates "how far we've come," and the tone of the album is really one of despair. Side A kicks off with "Europe Endless," almost a sort of "tour" of the post-WWII environment. "The Hall of Mirrors" questions modern identity, with lyrics like "He made up the person he wanted to be/and changed into a new personality." The side ends with "Showroom Dummies," which musically points to the direction that their next few albums would take, but the paranoid themes fit with this album perfectly.
Side B is almost a "Trans-Europe Express" suite, with the title track, and then instrumental tracks that build off of its themes. Made more famous in Afrika Bambatta's "The Planet Rock", the title track in its original context is still where the music is at its most brilliant. It's truly a tour-de-force that lulls you in to a haunting drive through Europe.
Kraftwerk made many great records, but none better than this. The paranoia and confusion are brilliant and the themes were never so dark. The album is absolutely phenomenal.