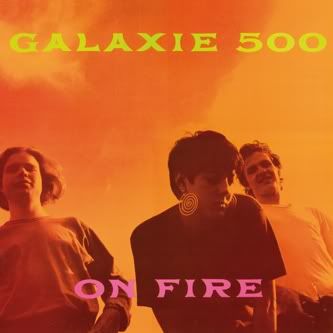 Artist
: Galaxie 500
Album
:
On Fire
Label
: Rough Trade
Year
: 1989
Oh man what a record. Galaxie 500 have managed to avoid becoming cool again and have avoided all of the respect they deserve by influencing so much 1990s indie with slow songs and reverb-drenched sounds. While simple songs and feedback were a staple of the 90s indie rock movement, few bands have ever matched Galaxie 500 for consistent quality, and nowhere is that more evident that on their sophomore album.
Besides the simplicity and tempo of the record, what really sticks out is the laid-back psychedelic vibe. Many in the Shoegaze movement used heavy abrasion to get the message across, and
Spacemen 3
and
Jesus And Mary Chain
played extremely loud, guitar heavy/guitar-focused rock as psychedelic leaders of the 1980s. But Galaxie 500's music, as well as being much less abrasive, is also full of space, and not packed with dense noise at every square inch like the other bands. No instrument is secondary to another one on this record, and the beautiful guitars are complimented by lush bass, reverb-heavy drums, and soaring falsetto/high-pitched vocals.
Of course, the songs on this album are elegant, and the style they forged on their debut, the previous year's
Today
, is fully realized here. "Blue Thunder" and "Tell Me" are perfect album openers, with psychedelic guitars and lush harmonies. Also of note, as this band is as slow as they are, it takes a while between verses and choruses...the buildup to the chorus is like a part of the song itself. The band is big on climaxes, and the way "Blue Thunder" ends, with everyone singing: "I drive so far away" is just beautiful.
The darker pop songs are the best on the record. "Snowstorm" CRAWLS, and the lyrics, like many of the others on the album, focus on the most minute details, but they are painted beautifully. The sound of just one person and one point of view for one moment are able to stretch out for minutes with these songs, as if repeating the points over and over with different wording are the best way to let the listener feel what the singer is saying---and it might just be.
The closing moment on the album is a superb rendition of George Harrison's "Isn't It A Pity," and the band were certainly masters of cover versions (see
Today's
"Don't Let Our Youth Go To Waste" or the cover of "Victory Garden" included on the CD here as a bonus track). Stripped of George's guitar tracks and Phil Spector-production, the song still holds up beautifully with Galaxie 500's rendition.
Galaxie 500 never made a bad record, and burnt out way too quickly after their third and final album would be released the following years. They never released anything bad, really, and this is certainly the place to start if you're gonna check them out.
Galaxie 500-On Fire