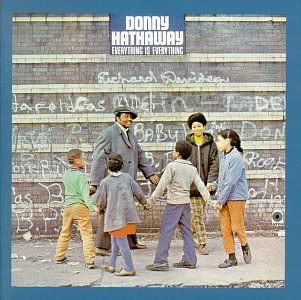 Artist
: Donny Hathaway
Album
:
Everything Is Everything
Label
: WEA
Year
: 1970
Donny Hathaway's first solo album remains a true soul masterpiece today, 40 (!) years after its release, as it's a great example of briding the gap between 60s soul and 70s funk. At the time of it's release, he was already known by many and had contributed to the works of
The Impressions
and
Roberta Flack
among others.
The A-side of this record is R&B-pop hit after hit. The title track, "Je Vous Aime (I Love You)", and "Misty" are all excellent songs. More than half of the tracks on the album are at least co-authored by Hathaway, and many of the songs also feature composition credits by the musicians backing him. Every crescendo, every instrumental fill that works so well on the A-side probably owes something to the closeness felt between the lead singer and his backing band. Yet it's the B-Side that really makes this album a masterpiece.
"Thank You Master" and "The Ghetto" are brilliant early-70s funk songs. The former takes up a political standpoint, with lyrics referencing slavery, and lush orchestration that would pave the way for bands like The O'Jays. The latter, however, is a repetitive stone-groove, more in line with the stylings of Ohio Players, where playing and feel, with a clear homage to jazz routes, are the centerpiece. The album ends with a cover of "Young, Gifted, And Black" a
Nina Simone
song that Aretha Franklin would adopt for an album two years later. This pointed towards Hathaway's future which revolved around covers and heavy orchestration.
Hathaway's career took several directions after this album and before his abandonment of show business in the mid-1970s, before his early death in 1979. But his first album remains a great example of an ordinary man making extraordinary art.