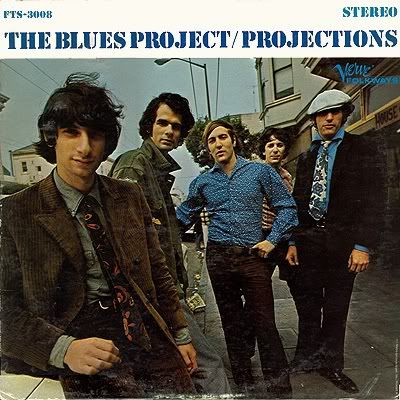 Artist
: The Blues Project
Album
:
Projections
Label
: Verve Forecast
Year
: 1966
I fucking love
Al Kooper
. Later on in this list you'll see him mentioned in several other albums, certainly, but I couldn't resist putting
The Blues Project
on this list.
It's not for the fact that they are an essential band of all-time. And it's not just because I always have a soft spot for exceptional garage rock. But their second album, released in November 1966, still is fresh and exciting. For a band whose origins were blues-folky in nature, with roots in the New York Bowery, being able to release this tour de force is magnificent.
Kooper's strength as bandleader here, as usual, is his ability to make ordinary pop songs exceptional. With the exceptional playing of the rest of his band, simple songs like "Cheryl's Goin' Home" and "Steve's Song" are transformed with great leads, perfect drumming, and great hooks.
Of course, for a blues-based band, the covers are essential. The long, drawn-out "Two Trains Running" and "Caress Me Baby" is the best of the band's material of that ilk. Kooper's "Wake Me, Shake Me," aside from the minor-hit "No Time Like the Right Time" is still the band's best song, and the
Chuck Berry
cover is performed exceptionally.
The album concludes beautifully, as well, and "Fly Away" points to the pop music Kooper would eventually create with Blood, Sweat, and Tears. Again, beautiful arrangements and wonderful yet simple playing are the song's strength.
This album isn't earth-shattering and I don't know of any greater impact it's had on the history of music. But simple things done well deserve credit, and with all of the above, in addition to smart production by
Tom Wilson
(see Bob Dylan) that retains a gritty feel and gives it no sheen, the album still is awesome with more could've been hits than most of its garage rock peers.