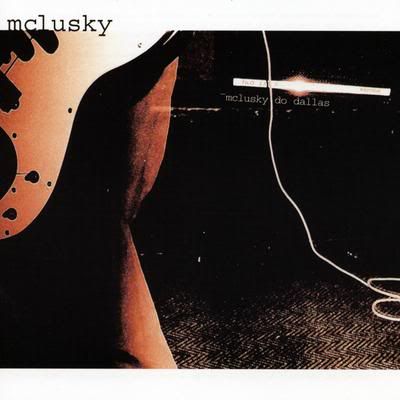 Artist
: Mclusky
Album
:
Mclusky Do Dallas
Label
: Too Pure
Year
: 2002
I used to be crazy, and thought no music this hard existed anymore. I then got into hardcore punk and felt very sheepish. BUT!
Mclusky Do Dallas
is still my favorite album of the new century, and truly an epic piece of rock and roll. Fourteen absolutely killer songs that never let up, with splendid engineering by Sir Steve Albini and hilarious lyrics...this album kills.
The band's first album was an enjoyable record. Some great songs, some decent ones, with very...odd production. I could point out multiple tracks, but I'll just focus on one: "Whiteliberalonwhiteliberalaction", the best song on the album, has hilariously loud bass that almost ruins the song. Nonetheless, any shortcoming the band had was quickly overcome for this, their sophomore album.
The record opens with "Lightsabre Cocksucking Blues," a song as heavy as its title suggests, and perfectly sets the tone for the rest of the record. "I'm fearful of flying! And flying is fearful of me!" Many of the other songs, such as "Collagen Rock" and "Whoyouknow" take ferocious swipes at faux-indie-rock stars (a la The Strokes) and people aiming to see and be seen. When you're working (on good terms) with Steve Albini, it's not surprising that these thoughts represent your politics.
The band showed strong diversity in songwriting, as well. "Fuck This Band" is subdued and an enjoyable track before hit single "To Hell With Good Intentions" (My love is bigger than your love song), and "Alan is a Cowboy Killer," a 4-minute, two-chord track, is the standout. I'd also be remiss not to point out just how great bassist Jon Chapple's songs are: "Chases" and "What We've Learned" are certainly two of the best songs on the record.
The magic would not last long. The band stuck around long enough for one more LP, and while it's decent, the loss of original drummer
Matthew Harding
is noticeable on the record. No other band has been so missed upon their breakup with so many fans finally realizing their greatness after their breakup as Mclusky, but this album will live on far longer than the work of so many of their peers, and with good reason.
Mclusky Do Dallas