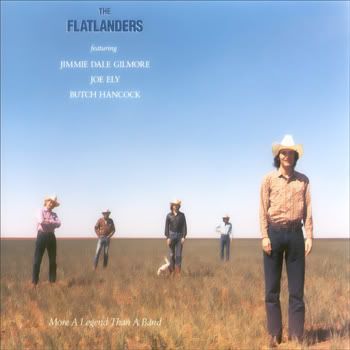 Artist
: The Flatlanders
Album
:
More A Legend Than A Band
Label
: Rounder
Year
: 1990
I'd say this is the one "un"official album on the list, but of course, it's story is what makes it so great. The Flatlanders' only recordings during their first tenure as a band were released on a small-run of 8-tracks, and after the band dissolved, members
Joe Ely
and
Jimmie Dale Gilmore
became country stars in their own right. This
Round
release takes the original 8-track, takes off two of the lamer covers, and adds 4 previously unreleased tracks from the sessions. The resulting release is one of the best country albums EVER.
The songs themselves are gorgeous. "Dallas" was the should've been hit, with lyrics full of regret and heartache associated with the town. Every song features similar lyrical themes, full of longing and regret: "Down in My Hometown" about a town that has lost its fortune, "One Day at A Time" where the lyrics follow "Yesterday's dead, and tomorrow is blind," it's beautiful pop music really through country music.
Of course, what really makes the album stellar is all of the non-traditional aspects of it, or rather, how out of place it was. Recorded in the mid-1970s as big haired Dolly Parton and mega-stadium country music was all the rage, a group of rag-tag traditional country musicians owing more to Roy Acuff than Dollywood were doomed commercially from the start. And of course, with songs like "Bhagavan Decreed," Eastern religion and drug-use are espoused to---huge no-nos in the country music community. (for a good read: the 33 1/3rd book on
The Gilded Palace of Sin
as Roy Acuff demands The Byrds get thrown off the stage at the Grand Ole Opry for having long hair!)
The Flatlanders
More A Legend Than A Band
is a short album with 13 amazing songs. The cover of "Jole Blon" is brilliant, and the instrumentation is great in its simplicity. Fans of country should already be down. Non-country fans need to get down.
The Flatlanders-More A Legend Than A Band