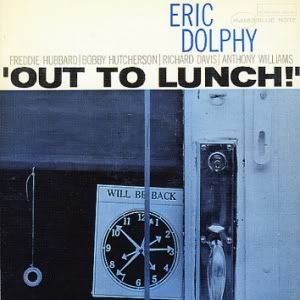 Artist
: Eric Dolphy
Album
:
Out To Lunch
Label
: Blue Note
Year
: 1964
And the award for most under-mentioned musical figure who died before his time goes to...But can you blame people? He was never a pop musician, or even a truly famous jazz figure in his time...he didn't have the chance. Dolphy's first recordings came out in 1959, and by 1965, he had passed away. Some of his earliest material was collaborations with the likes of
Booker Little
and
Ken McIntyre
, but on his own is where she truly shined, and never brighter than on this, his second to last studio session, from 1964.
The album opens with a
Thelonious Monk
tribute, where the time signature varies frequently, seeming to spend a lot of time in 5/4 (if I'm counting right) and featuring just extraordinary sax playing and vibraphone. The melody that opens up "Gazzelloni" is beautiful, and the song is really triumphant. The ending adds a clearer trumpet to the opening, and like much of Dolphy's music, is warped but in a wonderful way. The title track, as well, could be mistaken for a more typical Blue Note song of it's time, but is played in such a way where there is really no parallel from its time. A seemingly simple melody is just
off
enough to not fit in...anywhere really. Even final cut "Straight Up And Down", with it's groovy drum lines, could have been more generic if this cast wasn't so in touch with whatever it is they were trying to do.
Of course the other players deserve large amounts of credit.
Bobby Hutcherson's
vibraphone playing is sensational,
Freddie Hubbard's
trumpet playing is perhaps as interesting as it would be for the entire decade (before his 1970s CTI Records), and
Tony Williams
and
Richard Davis
hold down a great rhythm section.
But it's, of course, Dolphy who steals the show. Who knows what could have been had such an interesting and innovative figure been around in the end of the decade, as fusion and funk and new forms began to open up in the Jazz world. We'll never know, but even without it, this record is years ahead of its time and still a treat.