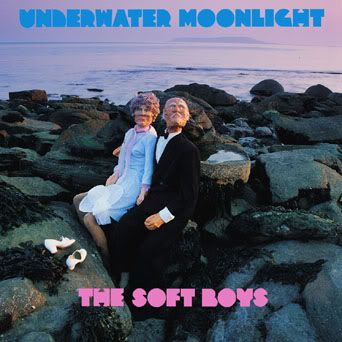 Artist
: The Soft Boys
Album
:
Underwater Moonlight
Label
: Yep Roc
Year
: 1980
Big Star
, with good reason, are cited as the key influence of such bands such as
REM
and
The Replacements
, who really introduced a new method of jangly guitar rock that inspired so much of today's current indie music. But there is never enough attention given to
Robyn Hitchcock
and The Soft Boys for their contribution to that sound. Their second and final album (save a reunion record from the early-2000s),
Underwater Moonlight
is fully of jangly guitars and warped, demented songs that live on nearly 30 years later.
The album is a wonderful mix of straight guitar-pop rock that fits on classic rock radio, with some darker, more bizarre songs. When you hear the epic pop of "I Wanna Destroy You," the anti-war cry "Positive Vibrations" (another nod to the 60s: the sitar in the song!) and the beautiful title track, it seems that the off-the-wall subject matter was the only thing keeping this album from being a hit!
But what really makes the album stand out are the dark, other songs. "Insanely Jealous" builds up for four minutes and perfectly gives off an air of insane jealousy from the point-of-view of the narrator. "I Got The Hots" is almost comical in the way it is delivered, and "Old Pervert," possibly the best song on the record, features a wild rhythm and even crazier lyrics. Coming from a man who really was his generation's
Syd Barrett
and a band whose first album featured a song called "Sandra's Having Her Brain Out," none of the eccentricities of this album should really be a surprise.
The songwriting is absolutely beautiful and the harmonies and melodies make the album a constant delight. If Big Star got credit for their gorgeous guitar interplay at a time when it was unpopular, then this album, coming at the beginning of a decade filled with synths and MTV, should get that credit 10-fold.
Underwater Moonlight
is one of the best albums of the 80s, and really sounds like nothing else that came out during the decade. Not a record to be passed up!
Underwater Moonlight