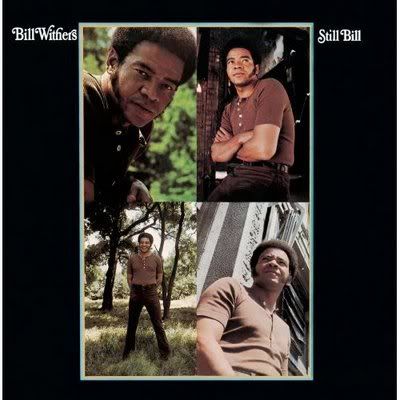 Artist
: Bill Withers
Album
:
Still Bill
Label
: Columbia
Year
: 1972
Bill Withers was not the only songwriter-based funk artist in the early 1970s, but his story remains unique. He was never a creative genius like
Stevie Wonder
, never got into substances like
Bobby Womack
, and he never sought out the fame that those two and many others had. Instead, his whole career was subtle, from the music to the man, and his 1972 sophomore effort
Still Bill
still sums him up perfectly.
It's a departure from his debut a year earlier in a couple of ways. First off: while he wrote 10 of the 12 songs on
Just As I Am
(the cover of "Everybody's Talkin'" is exceptional), the arrangements were often subdued. A few string arrangements here and there only bring out just how minimalist a lot of the album is. Also, while I wouldn't consider it a
happy
album, per se, the themes of many songs seem to be positive, whether about a beautiful girl or his grandma.
Still Bill
, on the other hand, is mostly a mean album. Except for the brilliant and timeless "Lean On Me," about neighbors being neighborly in a small town, Withers has a bit of a mean streak. "Who is He (And What Is He To You," and "Take It All In And Check it All Out" are directed at a women in anger, and the songs that do talk about a love existing, "Use Me" and "Kissing My Love," the message is less
we're in love
as it is
we're both getting ours without regard for each other, so fuck it!
. The rest of the songs, by and large, focus on distrust and disillusionment in some way or another.
Going back to the point about its predecessor being more stripped down,
Still Bill
is a damn muscular album. Leaving behind Sussex and Booker T. on production, this Columbia Records release is fuller, and while it's still held down by Withers and an acoustic guitar, the fullness of the sound brings out every instrument and gives it a punch. The album sounds just so thick and full, in ways that might've even hurt
Just As I Am
.
Though some of the songs on his first two albums ("Use Me", "Ain't No Sunshine", and "Lean On Me", namely) are classics, Withers is not an international superstar by any means. He had a few more hits in his career, but always laid low. Not because he was some genius recluse trying to get away from the spotlight, but just because...he...stopped playing. But
Still Bill
is one of his landmark records, and one of the most unique and exciting records of its time.