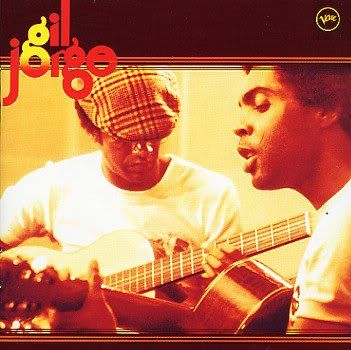 Artist
: Gilberto Gil and Jorge Ben
Album
:
Gil e Jorge
Label
: Verve
Year
: 1975
Allmusic.com laments that there "isn't another album in
Gil's
catalog like this." While that's true, it makes the other works of each musician that much greater. Jorge Ben was one of the most understated members of the MPB family, and Gilberto Gil, though possibly seen in Caetano Veloso's shadow, released many superb albums (especially in the 1970s) full of lush arrangements and beautiful pop. Here though, the two came together in one of the finest collaborations in pop history for a brilliant record.
Djalma Corrèa accompanies the other two on the album on percussion, and while there is very little rehearsal, the songs are beautiful. Re-records of some songs the musicians had done on earlier albums, it nevertheless sounds effortless and unrehearsed but in a freeing way. I once read from an online friend that one of the two arrived late and the other one was so pissed, he just went to his guitar and started playing, and the recording was full of tension. While I can't verify it, it certainly is one of the loosest collaborations in a genre that was no stranger to it.
Milton Nascimento
recorded with
Lo Borges
and
Som Imaginario
. Caetano wrote for
Gal Costa
and plenty others, and throughout the years, members of the MPB family always seemed to come together.
This wasn't even Gil's only album of the year, and the next year
Ben
would release arguably his solo masterpiece:
Africa Brasil
. Nevertheless, this record remains one of the most celebrated in Brazilian history, and with beautiful interplay that is really stripped down to its melodic essence, it remains a classic.