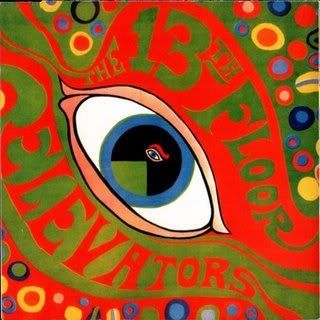 Artist
: 13th Floor Elevators
Album
:
Psychedelic Sounds Of 13th Floor Elevators
Label
: United Artists
Year
: 1966
One of the finest, earliest psychedelic masterpieces is the first 13th Floor Elevators album. Bands in the mid-1960s were dabbling in psychedelia, and you can hear it in
Dylan's
music, as well as The Beatles. But even next to really "out there" bands like The Godz, nobody took on psychedelia as early or fully as this group. Led by lead songwriter/eventual crazyman/eventual recovery story Roky Erickson, this album, as the band is aided by the band's drug dealer
Tommy Hall
on JUG, is 11 songs full of out there glory.
The hit opens the album. "You're Gonna Miss Me" is featured prominently in the film
High Fidelity
and even landed the group some minor chart success. You can tell the song is even mixed a little more for the radio, with the "jug" sound not as loud in the mix, but Roky's yelps can't be contained...and the rest of the album takes the template that the first song lays down, and brings it really far out.
"Rollercoaster" is a psychedelic album encouraging you to trip, with lyrics like "You gotta open up your mind and let everything come through." "Fire Engine" and "Tried To Hide," similarly bring the listener to a point in the song with a big climax, and then let it all slide away. Again, on songs like these Roky's yelps with jangly guitars allow for a wonderful listen. On other songs like "Reverberation" the bass and drums are actually at the forefront of what's going on, and tribal-rhythms take over the mood. But the reason the album still stands the test of time is the diversity, and the more subdued numbers are just as strong as the psychedelic freak-outs.
"Don't Fall Down" and "Splash 1 (Now I'm Home)" feature beautiful guitar melodies. "You Don't Know" and "Kingdom of Heaven" do the same, and really showcase the unique production of the album. There is so much space on the album, it's almost borderline hollow, with each instrument seemingly being recorded on a different continent. But it still works, and the space allows for all of the psychedelic textures to come out.
This album had an extraordinary influence on the psychedelic world, and bands like
Spacemen 3
would obviously be heavily influenced by it, as would
Janis Joplin
and
The Grateful Dead
in the near future. Roky's become the stuff of a legend in recent years, becoming the only 60s burnout to recover and begin releasing new music in a very heartwarming way. His life was very tough, and its story certainly chronicles the dangers of heavy psychedelic drug use, but the music he helped to create is magnificent, and the band's debut is still one of the finest of its time.
13th Floor Elevators-Psychedelic Sounds Of 13th Floor Elevators