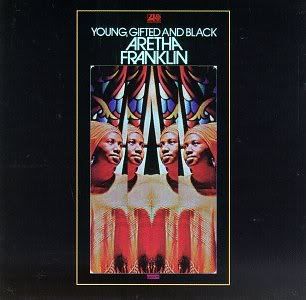 Artist
: Aretha Franklin
Album
:
Young, Gifted, and Black
Label
: Atlantic
Year
: 1971
I believe it's fair to say that it's rare for an artist to desire greater artistic control and personal freedom over their music than they had previously enjoyed in their career, and then become a better artist. In fact, short of
Marvin Gaye
and
Stevie Wonder
, it's really hard to think of one...but Aretha needs to be included in the conversation, and that's not when comparing her soul work to her gospel work (a transition that certainly didn't occur due to Aretha's artistic needs as much as her commercial failure as a gospel artist).
Young, Gifted, and Black
is Aretha's finest album, and while it may not have the same sort of mega-hits she enjoyed in the 1960s, the music is better and more diverse than ever before.
Four
is the number of songs Aretha receives at least partial songwriting credit on for the record, which is the same number as it was on 1967's breakout album
I Never Loved A Man The Way I Love You
and 68's
Lady Soul
. Her next few albums showed a gradual moving away from classic blues numbers, and towards modern pop, as evidenced by frequent
Beatles
covers, for example. And while one of those
does
appear on this album ("The Long and Winding Road"), the album still represents Aretha fully assuming control over her career, most clearly through mixing the modern pop with her gospel roots.
The soul on this record is better than she's been in years. Opener "Oh Me, Oh My" and "Day Dreaming" dabble in both pop and light jazz, and
Aretha's
piano-playing is on display. The psychedelic guitars and singing on songs like "April Fools" also are a perfect mixture of modern R&B and pop standards.
There is no doubt that Aretha kills it on every pop song, but it's the R&B where she shines. "Rock Steady" is one of her best singles and funkier than anything she ever did. The
Otis Redding
cover is stellar, and then there's the gospel. Her next album would be a live double album (
Amazing Grace
is even the title), but the seeds of it are planted here. "Border Song (Holy Moses)" and "All The King's Horses" foreshadow her religious turn. And then there's the jazz she turns to. Calling everyone out on "First Snow in Kokomo" and the perfect, life-affirming cover of "Young, Gifted, and Black," which
is
her best song. When people get down on the likes of
Elvis
and others for not
authoring
their music, they forget that a performance can be brilliant, and Aretha does that on this record.
Her next LP would be her last great one (what did I say about last great albums and
1972
?). But
Young, Gifted, and Black
is her best, and what a great album it is.
Aretha Franklin-Young, Gifted, and Black