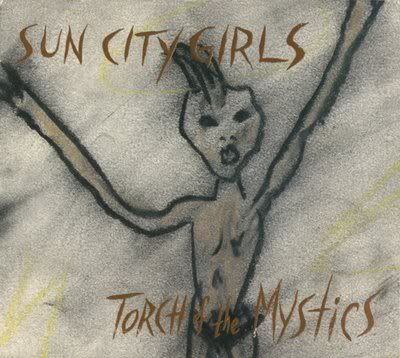 Artist
: Sun City Girls
Album
:
Torch Of The Mystics
Label
: Majora
Year
: 1990
Technically their fourth LP,
Torch of the Mystics
was over the twentieth release by the band when it came out in 1990 (lots and lots of cassettes). Sun City Girls are known for a lot of things: they've made what feels like hundreds of releases, almost all of which received just one press, their exotic influences and approach to music (drawing on everything from 70s soul to punk rock to Tibetan tribal music), they are one of the most interesting bands of all time.
Torch
is certainly a release that continues to stick out in the band's discography, for it gets right to the point, has no filler, and has absolutely killer songs.
Sun City Girls are somewhat notorious for their...uh...lack of editing. It seems like
Guided By Voices
, there was no idea worth throwing away...and I'm sure those who have had the strength to sit through their full catalog find it to be a trying task at times. But that is not an issue on this 11 song, under-40 minute record.
The first side sets the tone for what this really is, and that's lead guitarist
Richard Bishop's
album. That is in that, the electric guitar playing over the first four songs is
class rock-epic
. The melodies and playing are absolutely gorgeous, and as resident guitar-guru, R. Bishop deserves a lot of the credit for the side's awesomeness.
That isn't to say that side B doesn't have some excellent guitar playing. "The Vinegar Stroke," features some incredible guitar playing that certainly stands as a precursor to Richard's solo stuff. The tone of the second-side is more diverse...somehow a mixture of Middle Eastern and Exotica music that is really sensational (for the clearest example, dig on "Radar", which also, interestingly, has a total pop-song structure...yet is instrumental).
And another great thing about the album: except for "The Flower" there seems to be no real words on the album. If the band is ever actually singing another language, I'm not sure, but for a band that has so much great music that can be categorized under the "crazed-leftist" lyric pool, that they let the music
really
do the talking on this album sets up how great the music they would release all decade long would be in terms of breadth and depth. Whether it's nonsense words or intricate guitar harmonies, there is nothing out of the grasp of Sun City Girls.
Their catalog is enormous and even intimidating in many ways. But
Torch Of The Mystics
is one of those rare indisputable starting points that can get people into the band.
Sun City Girls-Torch Of The Mystics