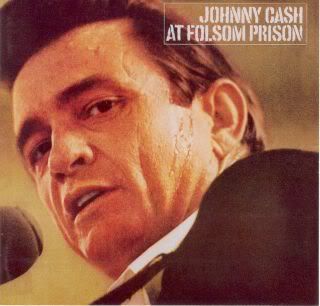 Artist
: Johnny Cash
Album
:
At Folsom Prison
Label
: Columbia
Year
: 1968
Please excuse the lack of updates from last week, I had been finishing up final exams and papers. Anyway, we start this week with one of the most famous live albums of all time: Johnny Cash's live performance at Folsom Prison. While Cash's own bad-boy reputation were played up by him and those around him, and it was really the likes of
Merle Haggard
who did hard time in the country scene, the songs and atmosphere on this album are truly magnificent.
Recorded live in front of a room full of prisoners at the famous penitentiary, Cash explores every angle of his own greatness. His own songs that are performed here are in their definitive editions.
Carl Perkins
's lead guitar on "Folsom Prison Blues" puts a fire in the song that had never existed before. His playing as well as the rest of the backing band is sensational throughout, but out of a stuffy studio and with the live setting, it's Cash's persona that lifts these songs. "I Still Miss Someone" caps off an excellent early run of acoustic numbers, while "Cocaine Blues" and "The Legend of John Henry's Hammer" pull the listener in with gripping narratives that never let up until a conclusion and final part of their story is told.
The atmosphere is also strengthened by everything going on. June Carter comes up for the definitive edition of the duet "Jackson" which is played exceptionally. The last song on the album, "Greystone Chapel," is written by one of the inmates. And throughout the album, there is superb crowd interaction and PA announcements for the prisoners that lets you feel like you are there. It's still one of the most unique albums of all time, and when you have one of the greatest performers of the 20th century doing what turn out to be definitive versions of some of his tunes, it's no wonder you come out with such a remarkable album.