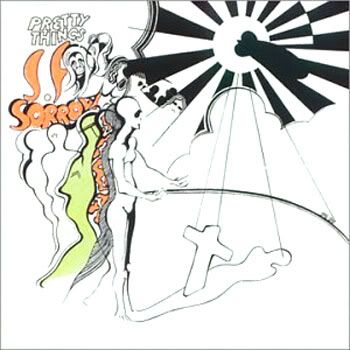 Artist
: The Pretty Things
Album
:
S. F. Sorrow
Label
: Sundazed
Year
: 1968
Bonus album! Not on 100-favorite album list
.
The Pretty Things are one of the most confounding rock and roll groups of the late 60s. The quality of their work ranged from brilliant to just lame. Their decline wasn't gradual, but sudden, as you never knew if the next LP would be great or weak. Indeed, on one of their weaker records from the era, 1967's
Emotions
, against the band's will, strings were added to make for a more psychedelic feel. And then their next album was this one, a psychedelic masterpiece! I don't know exactly why I didn't include this album on my list. Whereas a lot of albums I give more credit than they are due when I go a long time without listening to them, this one I've always seemed to put to the side. But song-wise, it's truly excellent from start to finish.
S. F. Sorrow
was recorded in the summer of 1967 at
Abbey Road Studios
(same time and location as
Piper at the Gates of Dawn
and
Sgt. Pepper
.
It's also written as a rock opera, and has been cited as an influence by
Pete Townsend
on
Tommy
. But at the end of the day, it's a wonderful, 13-song album which the band would never come close to bettering.
The tale is similar to The Kinks'
Arthur
, as allmusic points out. It follows a man named Sorrow from pretty much birth to death. But instead of one larger plot it follows, it seems more about just minor incidents throughout his life. There's songs about the women he loves, his time in the military, as well as just dealing with life. But none of that is as important as just how great the songs are.
So many albums from the late-60s feature similar aesthetics in terms of guitar tone, speaker panning, and other instrumentation, and the ones that remain great and not generic are the ones with the best songs. The bridge on "Private Sorrow," with marching drum beat and a flute is absolutely gorgeous and one of the finest moments on the record. As is the opening to "Trust" with perfectly played and toned piano. And the band doesn't lose their hard edge that made their earliest singles stand out---the electric guitars on "Balloon Burning" and "She Says Good Morning" are still absolutely ferocious, and while not in a
Chuck Berry
and
Bo Diddley
context anymore, the guitars still slay.
Two things that really cement the greatness of the album are the acoustic guitars and vocals. The acoustic guitars are often in the forefront and strummed really heavily, giving them a percussive quality. I can think of few psychedelic records that use the instrument in the same way, and it really gives a significant amount of texture to songs like "Old Man Going." And then there are the perfect harmonies which litter every track. Going back to their earliest singles and self-titled album, you hear very little of that from The Pretty Things. But along with all the musical arrangements being stellar, the vocals are perfectly placed and beautifully sung in a way I would never have imagined the band was capable of.
Today, The Pretty Things are almost a footnote on late-60s rock, overshadowed by many of their peers. While some of their even most celebrated work is a bit weak,
S. F. Sorrow
is a sensational record that anyone who digs on Swingin' London needs to hear.