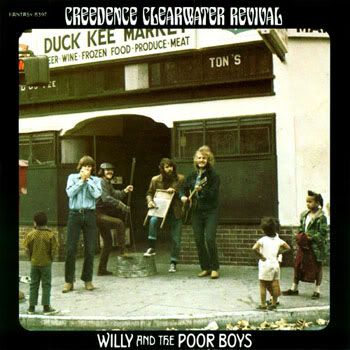 Artist
: Creedence Clearwater Revival
Album
:
Willy And The Poor Boys
Label
: Fantasy
Year
: 1969
The third of three albums released by CCR in 1969 is not only their finest, but one of the best of the era. Have you noticed just how great albums that stray from psychedelic excess in the late-60s (The Kinks, The Band) seem to be?
Bayou Country
and then
Green River
were huge steps forward for the Southern-California band. But
Willy and the Poor Boys
is their best because...and I know this seems bizarre, but it feels like their simplest. The band was already very minimal in its approach, already down-home and never succumbed to excess, but...JEEZ "Poorboy Shuffle" is just harmonica and acoustic guitar.
Of course the band is known for their ability to churn out hits. "Fortunate Son" which opens side two is their best song ever, and "Down on The Corner," the album opener, remains one of their most popular for good reason. "Don't Look Now" And "It Came Out Of The Sky" weren't hits on their own, but certainly had that quality about them. In addition, we are treated to
two
Leadbelly covers with "The Midnight Special" and "Cotton Fields" which again, play on this album's theme of being extremely subdued.
If Creedence ever had a shortcoming, it could be on the longer numbers, which makes sense. A band so damn good at crafting perfect pop songs might have trouble with the longer cuts, and on other albums, that can occasionally be the case. But not here: side closers "Feelin' Blue" and "Effigy" are two of the strongest songs on the album. John Fogerty's lyrics are some of their best. "Feelin' Blue" sets in on a groove where the title of the song is repeated in the chorus, and just read this verse on "Effigy": Last night/saw the fire spreadin' to the palace door/silent majority/weren't keepin' quiet/anymore." Fogerty's mentioned in interviews about the influence of Nixon on "Fortunate Son," but it's even darker and more apparent on the closing track.
Every track on
Willy
is a winner, and how many other bands can say they released three such stellar albums in one calendar year? Within two years the band's greatness would be behind them, but
Willy and the Poor Boys
is still a timeless masterpiece from the best band of the late-1960s.