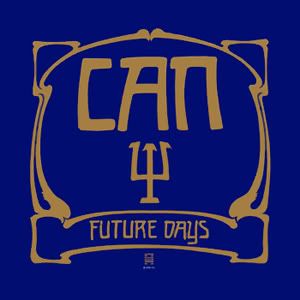 Artist
: CAN
Album
:
Future Days
Label
: Mute
Year
: 1973
Future Days
is the final CAN album with their famous frontman
Damo Suzuki
. After this album he would leave to become a monk, but he left the group at their highest point. There is a cohesion to the record that had been absent since
Monster Movie
and the band recover it here. For the legendary Krautrock group, this is their finest achievement.
Damo's strongest contribution to the album is really his lack of contribution. For the rest of the band, again, there's a cohesiveness that had been lacking on the previous two records. On
Future Days
, the band channels some bizarre mix of
Herbie Hancock
's early-70s output with peers such as
Ashra
. The feel of the album is a breezy one, playing smooth and with ease instead of aggression for really the first time. And it would predict the direction they would be heading in for years to come. Anything that resembled typical song-structure was gone at this point, and instead of their being one or two songs on an album that were "jams" with the rest of them following a more traditional (relatively speaking) structure, the whole album is loose, with the playing clearly more important than song structure.
While it's easy to see how CAN were never this good again, it's important to note just how much better this album is than its predecessors. As great as
Monster Movie
is, it suffers from in your face vocals and playing that doesn't showcase the band's strengths.
Tago Mago
is exceptional, but extremely long.
Future Days
, however, gets to the point, lures its listener in, and doesn't trick it with any bizarre surprises. The playing, the mood, and the atmosphere are the key to the record, and they remain consistently brilliant throughout the whole thing.