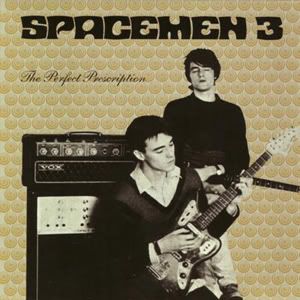 Artist
: Spacemen 3
Album
:
The Perfect Prescription
Label
: Fire
Year
: 1987
"It's 1987, all I wanna do is get stoned." Spacemen 3's second album is one of the final great psychedelic albums from one of the final great psychedelic outfits. Spacemen 3 understood that psychedelic, drug music, was not about throwing as much kitschy bullshit into your songs to make them seem wild and out there. Instead, the songs are about pacing, and setting a mood which they would then drill into their listener's heads. This album demonstrated that the band would be one of the best in the world for a few years, and the songs are evidence.
Now, these songs were not new to their catalog or to their fans. With the exception of "Call the Doctor", "Take Me To the Other Side", and "Ode To Street Hassle", they'd all appeared on at least one other release before. Some as early as their 3-piece, stripped-down demos, and some on the
Taking Drugs
demo. But the definitive versions of every song was recorded during these sessions.
"Take me to the Other Side" is the perfect opening track: drums build up, the between-verse instrumental parts drag on, the hypnotic, repetitive rhythm guitar of Sonic Boom is right at the forefront. It gives way to "Walking With Jesus," which in previous incarnations had been over the top, aggressive, and stomping with a Bo Diddley back-beat. Not here, though. Jason's acoustic guitar and Sonic's organ are rounded out by beautiful bass playing. The electric guitar fills that litter the end of the song are just as beautiful, as well.
The greatness of the album is found with Spacemen 3 perfecting their craft. "Feel So Good" had been released before in some excellent editions, but the addition of horns to the version here is absolutely sensational. The interplay of guitars and singing between Sonic and Jason here is better than they ever were or would ever be again. "Things'll Never Be The Same" becomes one of their heaviest songs, and has taken on new life so far removed from its initial incarnation at this point. What the band is able to do with so little is remarkable, and it almost sounds like there are dozens of guitar tracks. But as the
Forged Prescription
release shows, the final product was one that was stripped down to its essence as far as an album could be stripped down.
The Perfect Prescription
represented the end of an era for Spacemen 3 in so many ways.
Playing With Fire
, their next album, would feature much more radical song structure, away from the psych-blues standard-ness of a lot of the songs here. Jason and Sonic would develop a rift which to this day has never been fixed, writing songs apart from each other. Sonic's foray, as well, into electronic music, would become a huge part of their music, with Jason even eventually gravitating towards much of Sonic's nuances. But
The Perfect Prescription
still features their best songs done better than they'd ever be done. It pays homage to their roots and retains originality in a way few bands ever achieve, and still kicks ass today, over 20 years later.
Spacemen 3-The Perfect Prescription