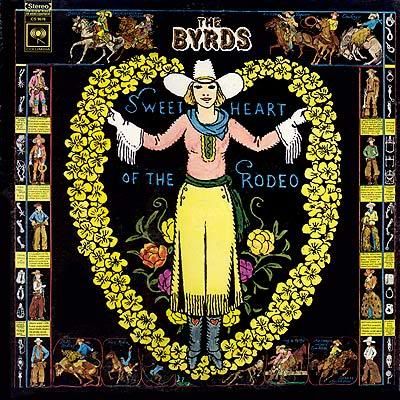 Artist
: The Byrds
Album
:
Sweetheart Of The Rodeo
Label
: Columbia
Year
: 1968
Starting off the new year is this country-rock gem from The Byrds. After six albums and line-up changes, the group added
Gram Parsons
to their ranks. Gene Clark and David Crosby were long gone by this point, and a change of direction stylistically led to the band's greatest album.
Sweetheart
starts in familiar territory for the band: a
Bob Dylan
cover. This one, "You Ain't Going Nowhere" is culled from sessions with
The Band
that would later become
The Basement Tapes
. While the jangly guitars remain, they are underscored by organ and pedal steel guitar. The beautiful harmonies and melodies are still present, but the style almost comes as a shock if you're familiar with their earlier work. As cynical as it may be to say, however, the reason the album works so well might be due to 9 out of 11 songs being covers. There is no filler here, as even the covers are great songs that the band is working with. The traditional "I Am A Pilgrim" is tackled, Merle Haggard's "Life In Prison," and Woody Guthrie's "Pretty Boy Floyd" get the treatment as well.
The Parsons influence is what still holds the album together, and makes its best moments shine bright. While his vocals are hidden in the final product (contract/label dispute bullshit), his two originals, "One Hundred Years From Now" and "Hickory Wind" are two of the strongest songs on the album. And his R&B influence, which really comes through on his first Flying Burrito Brothers album, begins to emerge here, with a cover of the
William Bell
tune "You Don't Miss Your Water."
Over eleven songs, The Byrds put together one of the finest country-rock hybrids there is. It would be the final great album for the band, who would continue to release sub-par records. In 1968 pop music and bands in it took many different turns, and few are as rewarding and memorable today as
Sweetheart Of the Rodeo
.