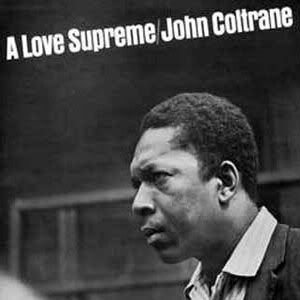 Artist
: John Coltrane
Album
:
A Love Supreme
Label
: Verve
Year
: 1964
A Love Supreme
is not the final John Coltrane record and certainly not the farthest out he would go with his music before his untimely death in 1967. But like so many other great records, Coltrane uses the saying "less is more" unlike ever before. The length of the album and the players on it are stripped down to an essential core, and there isn't an unnecessary moment on the record.
Elvin Jones's
drumming really gets the album going. A rush of cymbals introduces the album proper before Coltrane goes into a long solo which essentially comprises the entire first track on the album. Over seven and a half minutes, the quartet (rounded out by McCoy Tyner on piano and Jimmy Garrison on bass) build tension and lay the foundation for the classic opening track, the climax of which features the quartet (or just Coltrane? not sure) chanting the title of the album over and over. As they repeat "A Love Supreme" over and over, you know the album is special, and the deceptively simple melody and chord structure shows real beauty. It's so good in fact, that future Coltrane sideman
Pharaoh Sanders
would borrow the melody a bit for his album
Karma
.
"Resolution" is the second song and features more prominent playing from the other players, especially McCoy Tyner. The saxophone melody, again, remains the central focus of the song, however. After the second side of the record opens with the absolutely blistering "Pursuance," the closing track, "Psalm," reads like a real ode.
A Love Supreme
is an album where Coltrane pours his soul into the music like never before--giving praise for what he feels that he's been blessed with. Coltrane's bout with heroin addiction is common knowledge among jazz fans, and with
A Love Supreme
, he claims a victory over the demons he's fought for years.