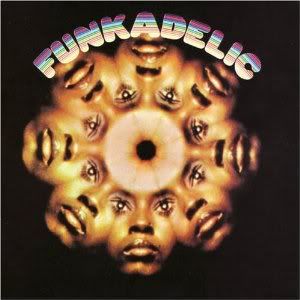 Artist
: Funkadelic
Album
:
Funkadelic
Label
: Westbound
Year
: 1970
While I wasn't alive when Funkadelic first hit the music scene, it seems their popularity is always overshadowed by sister-group Parliament. I always found it bizarre that the Funkadelic albums that get the most attention are
Maggot Brain
and
One Nation Under a Groove
considering how funky and...well...Parliament-esque they are. Funkadelic's first album is a real product of the 1960s (though released in 1970), and more than any of their other albums truly reflects the nature of their "why can't rock bands play funk and vice versa" nature. Funkadelic's first album is not only their best because of the heavy psychedelic rock influence, but the outrageously strong songs as well.
At the point this album came out, it had many peers. Many black guitarists were drawing influence from
Hendrix
, Sly and the Family Stone had become superstars merging rock and R&B music, and even Motown groups like The Temptations were incorporating a psychedelic influence. So Funkadelic's debut, arriving three years after The Parliaments hit "I Wanna Testify," makes a lot of sense in terms of fitting in with its time. But the difference between them and their peers is that
Funkadelic
is step one. The group had R&B/Doo-Wop roots dating back to the 1950s, but they had enough lineup and name changes that Funkadelic seems like the start of this collective, not the early Parliaments recordings from the 50s. And what better way to do it than "Mommy, What's A Funkadelic?" A nine-minute song built around one killer riff sets the tone for the whole album.
There is just so much space throughout the record, and it really remains the first great funk record. While Isaac Hayes's work at this point is equally brilliant, his basis was still pop songs in a lot of ways. But Funkadelic were the first to really take just one riff, and just fucking GO with it. Beyond that simplicity, the lyrics throughout the album are hysterical and brilliant. In "I Bet You" we hear, "Ice cubes on a red-hot stove'll melt, and I'll bet you" and other such situations. "What Is Soul?" is a tribute to an old school black lifestyle. Chitlins and hamhock and joints rolled in toilet paper are given a celebratory piece.
The album ends very similar to how it starts: one stone groove played for a long-ass time. The whole album is a treat, and really one of the few albums where they are actually rocking. The psychedelic stuff is way out there and the songs are genius throughout. If you consider yourself a fan of anything related to George Clinton, you need to hear this record.