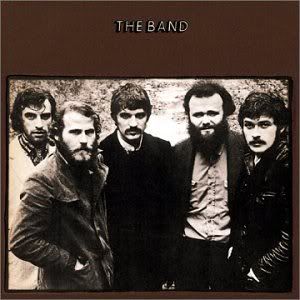 Artist
: The Band
Album
:
The Band
Label
: Capitol
Year
: 1969
The definitive evidence that it really took a group of Canadians to produce the great American album. After the success of their debut
Music From Big Pink
, a product at least partially of their time in a basement with Bob Dylan, The Band's second album was even tighter, more deliberate, and in many ways, more cohesive. Every song is a delight, and with Robbie Robertson taking over lead songwriting duties, The Band deliver possibly their deliberate statement.
Music From Big Pink
is an absolute triumph, and will appear later on this list, but
The Band
is a more deliberate and directed album. It uses narrative gorgeously to paint an amazing picture of an old America, far distant from the progressive turmoil of the 1960s. After "Across The Great Divide" sets both a musical and lyrical tone for the album, "Rag Mama Rag" takes it up a notch even further, talking about 100-proof bourbon, cabooses, and absolutely amazing fiddle. The album's superb opening run goes on with "The Night They Drove Old Dixie Down," a tale from one soldier's perspective about the night the South fell in the Civil War. It remains a timeless classic with the previous album's "The Weight" for so many reasons: it has not only that "The Band" feel of unique instrumentation, but it's an epic song that is gorgeously subtle. The drums, piano, and acoustic guitar are all incredibly sparse, and the group's gorgeous harmonies lift the track.
There are other songs in the vein of the aforementioned that work extremely well. "King Harvest" is a song about the dust bowl, and as the group so perfectly does, paints a depressing portrait of the hardships associated with the everyman. While all of these songs are fascinating looks at the hardships and big issues involved in American culture, many of the songs take a individuals and their plights.
"Up On Cripple Creek" is a hilarious tale of one man and what he goes through with his women, and their oddball romance. "Look Out Cleveland" is an awesome, old-time rollicking song about what we might not expect in life. And "When You Awake" is one of the group's most beautiful songs, and again, everything about the instrumentation is a triumph: subtle keys, barely any drums, incredibly light guitars, and amazing vocals. There is so much to enjoy on this album, and like a lot of the greatest art ever, it's done with so much subtly, you might miss some of it.
The Band never released another masterpiece after this. Some fans might like their 70s work, but even the most die-hard among them acknowledges those first two albums are special in a way that was never matched by the group. But on their self-titled sophomore album, they did everything right, and it's still a remarkable album today.