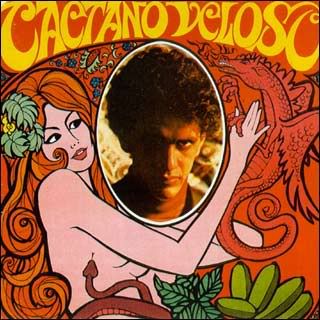 Artist
: Caetano Veloso
Album
:
Caetano Veloso (1967)
Label
: Universal
Year
: 1967
Caetano Veloso's first solo album (he'd done an album with
Gal Costa
previously and was second-billed on it) lays the groundwork for everything you need to know about the man, and sets a perfect tone for what is one of the greatest careers in pop songwriting ever. Across twelve tracks, there is gorgeous instrumentation, psychedelic songwriting, a longing to see the world and an obvious affection for his home of Brazil. It helped launch the Tropicalia movement in Brazil and is arguably the album of that genre and time period against which all of its peers are measured.
The album kicks off with the song that defines a genre, "Tropicalia." It sets the tone of the album with gorgeous strings, horns, and a uniquely Brazilian take on the pop music of the day. "Clarice," is a slower track, and marks the beginning of a new way for the songs to progress. Rather than feature songs where every instrument in the ensemble is constantly contributing, instruments like guitar often drop-out. The organ takes over, or a simple tambourine, even. Beyond the unique instrumentation (and especially dirty electric guitar tone) that defines Tropicalia music, the structure within the song that allows for the use of each instrument is truly unique. As orchestrated as the album is, it often feels stripped-down and incredibly personal, which adds to its power greatly. Caetano's vocals and sparse arrangements are absolutely delightful throughout.
By the time you reach the album's final track, "Eles," we are introduced to Caetano's more experimental side, which appears again on his next album, and would really flower on his albums in the 1970s. A sitar appears with an introduction that is certainly eastern-influenced, as well as jazz-influenced bass and organ playing. The warped-style continues as the song progresses, eventually ending in spoken word and distorted vocals.
Caetano Veloso has one of the most storied careers and stories in pop history, and his first album still sounds fresh and invigorating over forty years after its release. It is important in any context and indisputably a gem of popular music.