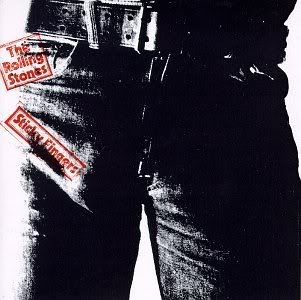 Artist
: The Rolling Stones
Album
:
Sticky Fingers
Label
: Virgin
Year
: 1971
I've already reviewed
Sticky Fingers
here
, but, I haven't really put the thing down since my first review, so I feel it deserves another look. While some of the things I said I still believe are true, the album is so good, that a lot of what I considered to be shortcomings I don't view in the same light anymore.
"Brown Sugar" is still one of the most killer opening tracks ever, and it sets the tone for what pretty much every song on the album has some level of fascination with: blues, heroin, and slavery. "Sway" is a much more hopeless song, and in it, life is viewed more as a chore than as anything else. If
Let It Bleed
was identifying with a lost-dream kind of mindset in 1969,
Sticky Fingers
is an album where a band has been searching for that dream and are clearly as spiritually lost as ever. "Wild Horses" illustrates peacefulness in being lost with someone, but at least being lost and together has some sort of redeeming quality to it. However, album closer and the best song on the album, "Moonlight Mile," destroys that idea, because even if there's some sort of beauty to being lost and being isolated, the fact that you're alone and surrounded by strangers if anybody at all is truly unsettling. Songs like "Wild Horses" and "Moonlight Mile" are great because of the wide range of emotions they bring out: while there is beauty in the music, there is a haunting sense of paranoia and regret within the lyrics. All of these emotions are reflective of the drugged-out nature of the music as well, which also comes across in Mick Jagger's often-impossible to understand lyrics, which would become a huge part of the next record,
Exile On Main Street
.
Along with the cerebral and the regret and angst of the songs mentioned, there is also an important decadence that the subject matters in the songs brings out. There is an upside to the drugs and the lifestyle, and The Stones don't shy away from it at all. "Brown Sugar" celebrates the forbidden fruit in the form of sexual relations with slave women. "Can't You Hear Me Knockin'" is a junkie dying for a hit, but the upbeat music and saxophone outro make it much more upbeat than some of the other songs on the album. "Bitch" celebrates how a woman can have the exact same effect on a man that junk can. And in one of their countriest songs to date, "Dead Flowers" lets that woman know that drugs make a fine substitute if the woman doesn't want to be with the man anymore.
There are songs which directly illustrate the pain of being without junk, and "Sister Morphine" and "I Got The Blues" paint a picture that nobody would want to experience in terms of helplessness and need.
Sticky Fingers
as a whole is paranoid, dark, deranged, and an album which is really messed up. When The Stones awake from their decadence (to a degree, at least), in 1973, it would be the end of some of the greatest music of the rock and roll era. Few albums are as stylistically diverse and true to one subject as
Sticky Fingers
is, and over the course of the record, you go up and down with the band. It's really a fantastic record, and one that deserves your attention just as much as their other classics.