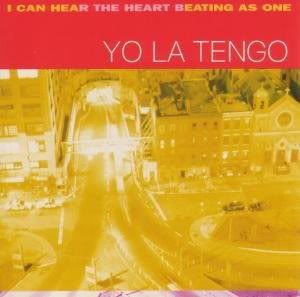 Artist
: Yo La Tengo
Album
:
I Can Hear The Heart Beating As One
Label
: Matador
Year
: 1997
Until this past February, I could probably count on one hand the amount of times I'd really sat down and listened to either Yo La Tengo album I owned in full. I'm pretty sure by the time I was a high school senior I owned the two that remain the only two I own (
Painful
and
Heart Beating...
) but they never did anything for me. This remained the case even after getting to experience their superb Chanukah show three years ago.
But as the first post in this blog showed,
Painful
has recently won me over, and in fact, become one of my favorite albums of the 90s. So it seemed inevitable that I was finally
getting into
Yo La Tengo, and with a few more listens, the album that most consider their masterpiece would sink in with me.
Well, on one hand, I finally "get" the album, and I've come around to have an opinion on every song. And in reality, there are no bad songs here. But the problem is, YLT's reach exceeds its grasp. They've always been genre-hopping music snobs, but there is no cohesion to this record. And consider it a double-record, which it is on vinyl. Many of the greatest double albums, from
The White Album
to
London Calling
to
Double Nickels on the Dime
, and countless others, all thrive on not staying in any one place or mindset or musical style for too long. That's what makes them great. But where this album isn't superb, is that a lot of the songs are just kinda lazy, and just seem included to keep the album diverse. In fact, one of the things that makes
Painful
so good is HOW cohesive it is. This is not the case on
ICHTHBAO
.
Another "problem" is that...there's a lack of even-ness. The greatest albums ever, while perhaps having one or two songs that every fan can get behind, are even in terms of song quality. Is there really a song on
Exile On Main Street
or
Zen Arcade
that is HEAD AND SHOULDERS more brilliant than any others? No, because most of the album is damn good, with a few exceptions that are truly superb. This album, however, has some of the Tengo's best songs (notably: "Sugarcube", "We're An American Band", "Autumn Sweater," the space-y "Spec Bebop" and my personal favorite "Deeper Into Movies.") The aforementioned stand among some of the best songs of the decade and certainly of the band's career.
Unfortunately, this level of brilliance isn't sustained through the entirety of the album. While it is a very good album, I'm always waiting for the standout tracks to come on. And like other bands as prolific as they are, there is often instances where a little editing could've gone a long way. (With all of the above songs, plus the first two and the cover of "Little Honda", you still have nearly a 40 minute album).
Yo La Tengo are an awesome band, and I totally can get behind their existence and ethos. But it's still hard to listen to most of their albums in full, including this one.