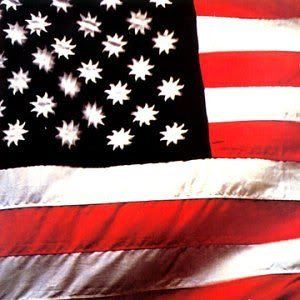 Artist
: Sly & The Family Stone
Album
:
There's A Riot Goin' On
Label
: Epic
Year
: 1971
As I slowly trudge through my library to do this...and it's obviously going to be a never-ending project, the exciting thing is what albums have gotten better to my ears and which have left me disappointed. Today I'll attempt to review a bunch of albums that I was primarily into in years past (not exclusively, though). When I got into this album, I thought it was brilliant, and as I listen to it now, especially with the crisp sound of the reissues from a few years ago, the brilliance of this record still shines through.
This might be one of the first records I've reviewed here that I would absolutely consider one of the 10 or 20 greatest albums ever, and I don't know how anyone couldn't be moved by this. After the unreal highs the band brought with 1969's
Stand!
and the two subsequent singles "Hot Fun In the Summertime" and "Thank You Falettinme Bemiceelf Again" (spelling?) it seemed like the good times would never end. But the 1960s did, and Sly is high on everything there is, and if the
Stones'
Let It Bleed
signaled the end of the 60s,
There's A Riot
is a perfect illustration of the fallout...the after effect.
Sly's voice is no longer bright and jubilant...instead he slurs his words with desolate reverb and an effect (don't know if it's just the way he sang or something done with technology) that screams disillusion. And the lyrics also signify that disillusion as well, as "Family Affair" shows inter-family strife and "Spaced Cowboy," as far as I'm concerned, takes a big swipe at traditional American values and entitlement.
The music is also sparse and dark. Funk bass drives the songs...there is sparse drumming. And the organ and keyboards are off-putting. Back to the lyrics, though...they are sarcastic and offensive. Sly is not pleased...and it's as if he's disgusted in his own past optimism.
Every song on this album is superb in every sense of the word. You are fucking up if you haven't heard this album.