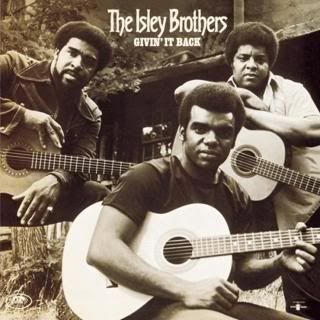 Artist
: The Isley Brothers
Album
:
Givin' It Back
Label
: T-Neck
Year
: 1971
Givin' It Back
ushered in a totally new and purely brilliant era for the Isleys. Throughout the 60s they had a steady string of hits and had great artistic control, writing all the songs that appeared on their albums. But for this album, they dropped a lot of the funk and groove, going in a new direction...and it's probably the best album they ever released.
The album features zero original songs. Instead, the Isleys opted to cover some of the bigger songs of the era. For a group so revered in R&B circles to be covering
Crosby, Stills, Nash, and Young
,
James Taylor
and
Bob Dylan
especially with the racial mood of the country...was sensational. Eric Burdon, Stephen Stills and Bill Withers composed the other songs you hear on the record. What makes this record of ALL covers so good is how they've improved on every original. Whether it's their sensational singing, the extra groove they are able to lend to these songs, or the tone of the acoustic guitar ("Fire And Rain" namely, which I think may be my favorite cover of all time), they not only do the songs justice, but improve upon them.
Ernie and Marvin Isley
and
Chris Jasper
contribute to the playing, and by 1973 they'd be fully accepted members of the band.
Bill Withers
even contributes some guitar playing to this record! (and "Cold Bologna," the song he wrote, certainly sounds more than just a little like "Harlem" the first song on his first album
Just As I Am
, released the same year.) It's also one of the last they'd release on their own T-Neck Record Label, which eventually moved to Epic.
It's almost wrong to call this a new "era." On one hand, this album along with
Brother, Brother, Brother
and
3+3
feature many, many covers. But that's only three albums, and by 1975's
The Heat Is On
they were recording mainly originals, again. Furthermore,
3+3
has a lot in common with their late-70s work, and certainly shows the direction they'd be taking in terms of disco/dance music.
Still,
Givin' It Back
remains a landmark and really original work. It closes with the absolutely superb "Love The One You're With" and the songs, not surprisingly, cover so much of the emotional spectrum. The album is an absolute joy to listen to and even the sad songs can put a smile on your face.