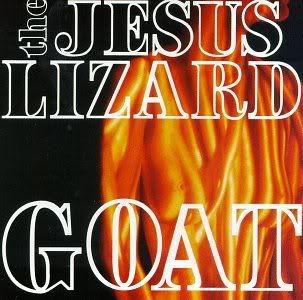 Artist
: Jesus Lizard
Album
:
Goat
Label
: Touch & Go
Year
: 1991
I don't know how I forgot how brilliant this album is. For those who don't know,
Jesus Lizard
formed out of the ashes of such awesome bands as
Scratch Acid
and
Rapeman
. After their debut EP
Pure
, the band ditched their drum machine and really came into their own.
Goat
is the band's second album, but with the pedigree of their background...the idea of a sophomore slump or the band "coming into their own" wouldn't be fair. The band clearly knows what they are doing, and with this album, perfect their style. It is easily the best album any member of the band was ever a part of. And right from the get-go, that's evident. As great as their first album
Head
is, "Then Comes Dudley" on its own puts this record a mile ahead of its predecessor.
Every song is crystal clear...and where so much music overdoes volume these days, and there is massive compression is a shining example of analog recording done well...where if you want to hear it be louder, turn it the fuck up! The band is also hilarious throughout the record. Lead singer David Yow declares "I can't swim!" in "Seasick" and "Nub" features hilariously sung Spanish. The guitar lines are menacing, the bass is a PERFECT TONE. It's not too distorted, but it certainly isn't smooth at all. And the drumming is amazingly precise and jeez does this album show you how important getting the drums to sound
just right
is.
There is a precision to the menace on this record. Every note is right on time, not a crash that lands early, not a note mis-played. While the music inside the record is crazy, the band is in total control.
"Lady Shoes" is the best song on the record. Yow's vocals are so distorted and vicious...and every drum beat is PERFECT. The guitar line is amazing...and so fucking brilliant...I can't describe. I just can't.
The album is over in a cool 30 minutes. Some prefer the follow-up
Liar
, but for my money, it doesn't get better than
Goat
. Easily one of the best records of the 90s and an essential record for anyone who loves great punk rock.