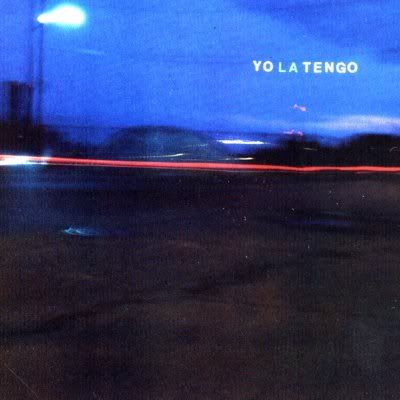 Artist
: Yo La Tengo
Album
:
Painful
Label
: Matador
Year
: 1993
I never had much of an opinion on Yo La Tengo. Though I owned two of their records, they never did much for me...so I just sat on them. Years would go by, I'd listen to the albums again, try out whatever new album they'd release...even saw one of their Chanukah shows once...but still never cared about them! And excluding the absolutely perfect song "Deeper Into Movies" (from 1997's
I Can Hear The Heart Beating As One
) this remained the case until two weeks ago.
While pillaging through my CDs to decide what to listen to that day, I just so happened to land on
Painful
...an album MAYBE I'd listened to three or so times in full. I don't even remember where I was going...but something about the opening track "Big Day Coming" really clicked with me. And the same went for "From A Motel 6" and "Double Dare." The rest of the album was nice, too...but I didn't pay it as much mind.
But since then...there hasn't been a single day where I didn't play at least a portion of it. And I've realized that the album works in so many ways where other Yo La Tengo albums don't: PACING. Clocking in just under 50 minutes, there's time for the rocking re-worked opening cut. There's the haunting-in-tone but absolutely stellar "I Was the Fool Beside You For So Long" and "Sudden Organ." These last two songs show that Yo La Tengo, at times, are absolute masters of making excellent super-simple songs.
The shorter songs on the album...some instrumental some just short little atmospheric pop songs, work extremely well, too. Rather than coming off like YLT are just trying to flex musical nuts (the problem of over-diversity in
Heart Beating As One
), these songs add to the album as wonderful asides that allow for some cool-down between stellar, lengthier songs. The closing song is an instrumental, and even at seven minutes, "I Heard You Looking" is absolutely killer.
The stand-out track on the album is certainly "Double Dare." The sound of the organ litters this album and is clearly the cornerstone of the sound they are going for, and it shines on this track better than any other one. It just passes over the three-minute mark and is just pure pop bliss.
I'm still not a huge YLT fan.
I Can Hear The Heart Beating As One
made it to my stereo last week, and it didn't have nearly the impact
Painful
did. And I still find many of their albums (most notably the newest one
Popular Songs
) to be wildly uneven. With that said,
Painful
is awesome, and with great sequencing, a reasonable length, and no songs that are even remotely kitschy, I'd recommend starting here if you're looking to dig on them.