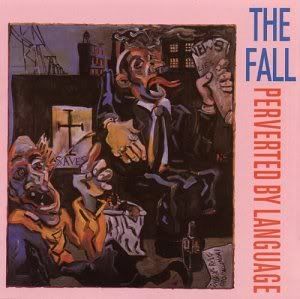 Artist
: The Fall
Album
:
Perverted By Language
Label
: Rough Trade
Year
: 1983
Perverted By Language
might not be the greatest Fall album (not to me anyway). It's also not their first masterpiece...but goddam if this isn't one hell of a fucking record. After spending their first few years struggling for notice, and ready to call it a day at the lack of success, 1982's
Hex Endunction Hour
was the band's first charting record. After its success breathed life back into their career, they recorded a mini-LP (
Room To Live
) and then in 1983, went to record this record.
It opens up with the, not necessarily poppy, but certainly easier on the senses "Eat Y'self Fitter" which certainly still sets the bar for nonsense by the band. It sounds like MES might just be recanting on some random dreams he had with superb memory. The song really sets the tone for the record, because it might be their most repetitive one yet. Many of the songs are without bridges or choruses except for slight chord changes in a minor instrumental break played between verses.
Perhaps the commercial success of
Hex
really just boosted M.E.S.'s ego that much more. He was always cocky, but now people were listening to his band. Plus, he got married, so having a wife in his corner now (American musician
Brix Smith
who is often given credit to encouraging the poppier edge the band took) probably upped his ego. And how does it come into play? There are only 8 songs! MOST are over the 5 minute mark and they see the Fall at their most minimal. The Fall right at this moment are at their best, writing their best songs and playing them perfectly. And it seems so damn effortless.
The lyrics are also noticeably different here. No song on
Perverted By Language
seems to be about something definitive. Earlier Fall albums had lyrics that often didn't make sense, but were also often about things like popping pills, old geezers, and many a tune taking swipes at music journalists and others in the "industry." All lyrics of that sort are seriously absent here. Yet the lyrics are still so damn effective. In the live take of "Tempo House" he utters "Winston Churchill had a speech impediment" (a reference to bills posted in UK around that time encouraging people not to be discouraged who had disability) and the vocal effect allows the line to linger, and it really resonates. He croons "Smile" over and over in that track, and "Garden," certainly a story about something (I probably should know) repeats nearly no lyrics. But the whole comes together in some brilliant collage of Jews on motorbikes and other such things.
While many point to this record as the first one to usher in the new era of the Fall, it's successor
Wonderful And Frightening World Of...
really set the production tone that they would keep at for the rest of the decade. Though Brix is in the band and the guitars are notably less caustic, this is really the end of that first brilliant era of the Fall's superb career. This album is not to be slept on at all!