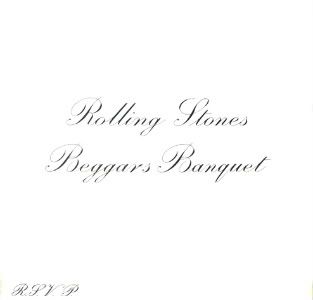 Artist
: The Rolling Stones
Album
:
Beggar's Banquet
Label
: ABKCO
Year
: 1968
Somehow
Beggar's Banquet
gets skipped over it seems when discussing the best Stones records.
Let It Bleed
marked the end of the 1960s and features two of their greatest songs as openers and closers.
Exile On Main Street
is the greatest sloppy record ever, and their last triumph...and a double LP to boot. Even
Sticky Fingers
gets credit for being a truly sleazy record...and the first to mark their new sound. But it's still 1968's
Beggar's Banquet
which is their true masterpiece. But I don't want to talk to much about the other albums, and I'm sure I'll touch on them very soon, but
Beggar's
is their only album from this period with NO BUM TRACKS!
Beggar's Banquet
is their masterpiece.
"Sympathy For The Devil" kicks things off, and in earnest, I thought when I went to listen to the album the other day I wouldn't care for it anymore. I've heard the song a thousand times...we all have...it has to be the weak track, right? But with lyrics that are probably unparalleled in any Stones song, and a closing which features Jaggar absolutely losing it and declaring, "Tell me baby! What's my name?!" it still kills. "Sympathy" like "Jig-Saw Puzzle" is also the Stones at their most
Dylan
-esque. Both songs feature a narrative type of lyricism that screams Zimmerman. "Jig-Saw Puzzle" also features such Dylan words like "tramp" and "cinderella" that are only really out of place in Stones songs. It may be my favorite song on the album...but there is so much more greatness.
"Dear Doctor" is at first seemingly a semi-cheesy country track, but with such exceptional lyrics (I'm noticing a theme here) such as "I've been soaking up drink like a sponge" the track maintains its greatness. It and "Factory Girl" are probably the simplest songs on the album, and show the band could still do so much with so little. The same could be said about the bluesier tracks, "No Expectations," and their cover of "Prodigal Son." The Stones are still at a point here where they've found their niche...and realized they are really good at it, but are far from lazy...the way they've been for the last nearly forty years at this point.
"Street Fighting Man", the other single on the album, also kicks off side two with a bang. The closing track, with an awesome first verse sung by Richards, "Salt of the Earth," is as ballad-y as the band got at this point, but with a choir behind them, the song maintains awesomeness.
I've always really loved
Beggar's Banquet
, but only with recent listens have I realized its brilliance. That guitar that rings out one note of feedback at the end of the verses in "Jig-Saw Puzzle", immortal lines like "I can see you're 15 years old/but I don't want your I.D." Honestly, this album is so dirty and sleazy, a shower needs to be taken after listening to it.
In truth, the Stones released some of the greatest songs of the 60s and even had two killer albums in the 1970s. And truly, while each of the three albums that succeed
Beggar's
are often seen as both ushering in and closing an era of the Stones,
Beggar's
is the one that does it best. The last time we could see them before they were huge rock stars, selling out stadiums and having
Stevie Wonder
open for them. Before they were so rich they had to record an album in a French villa to avoid paying taxes. There was a time when the Stones were a bunch of young, sleazy, badass kids! And this is the last album where that really shows, and we can still enjoy them.
Beggar's Banquet
is the Stones' greatest masterpiece.