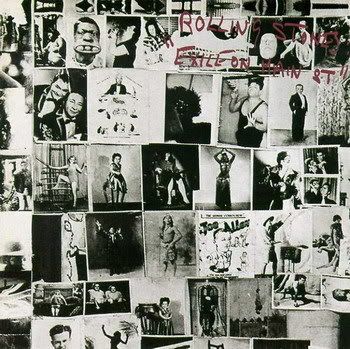 Artist
: The Rolling Stones
Album
:
Exile On Main Street
Label
: Virgin
Year
: 1972
Maybe the genius behind
Exile On Main Street
is that it has no business being such a superb record. The Stones dominated in the 1960s with superb singles and some amazing LPs. But the 1960s ended, and
Sticky Fingers
, while strong, was a very new direction, and the footing the Stones found themselves on musically certainly wasn't as strong as it had been.
But then the story goes that they decided to record in Keith Richards' French Villa. They were tax exiles. They did lots of drugs, drank a lot of liquor, and everyone from
Gram Parsons
to a million others dropped by to say hi and record a scattered album in which only three songs have every member of the band playing the instrument they are known for. As seems to be somewhat common, though, amongst some bands, the lack of cohesion going on around the time of the album leads to the band making their definitive LP.
Every song on
Exile
drips with a grimey sleaze, but is incredibly focused. And like most of the great double albums released in rock history, it's breadth is grand. Standard blues covers come from
Robert Johnson
and
Slim Harpo
(Stop Breakin' Down and Shake Your Hips, respectively), gospel-turned-R&B singers litter tracks like "Let It Loose" and "Shine A Light." There are immediately brilliant hits such as "Rocks Off," "Tumbling Dice," and "Happy." There is weird experimental stuff with "I Just Want To See His Face" and possibly the band's best foray into country territory with "Turd On The Run."
It would be wrong to say there's not a weak moment on the album. "All Down The Line" is honestly a bit generic. It's really the album's only Achilles heel though. The majority of the album struts with a swagger that has honestly never been equaled but is constantly imitated.
And maybe that's just it. Imitation. The Stones ripped the blues off to a degree early garage rock bands and their peers never quite did. But they did it well and pretty much invented blues rock. And with the terrible music that the likes of Aerosmith and AC/DC have made over the years, as well as thousands of other imitators, it's that much more impressive that
Exile On Main Street
kicks so much ass.