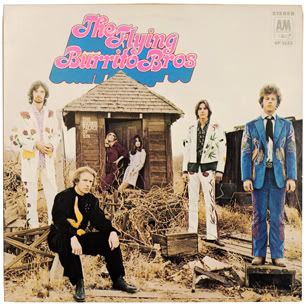 Artist
: The Flying Burrito Brothers
Album
:
The Gilded Palace Of Sin
Label
: Edsel
Year
: 1969
Gram Parsons
was one of the great 1960s wandering musicians. Like
Al Kooper
,
Eric Clapton
and even
Neil Young
he would briefly appear in/form bands (brief relative to the band's entire career), make a tremendous contribution, and then be on his way (the rest of the band's output would never be of such a great quality). He got his start fronting The International Submarine Band where he began to hone his country-rock stylings. (Note: I feel it's worth pointing out that Parsons, contrary to popular belief, didn't invent this style. He rightfully acknowledged a debt to England's
Downliner's Sect
. Their second album,
The Country Sect
is probably the true beginnings of country-rock.) He would give his most popular work as a member of
The Byrds
, contributing inspiration, a few songs, and a couple of vocal tracks to their landmark album
Sweetheart Of The Rodeo
. The Byrds inability to keep a steady lineup and Parsons being not allowed to sing on songs due to label restraints meant that the partnership didn't last long. A year later Parsons had a new band, The Flying Burrito Brothers. His stint with them would also prove all-to-brief, and the end of his time with the band marks the beginning of his personal downfall, but their first album,
The Gilded Palace Of Sin
, is still the finest album of the entire genre, and one of the best of the 1960s.
There's no denying the diversity of styles that emerged in popular music in the 1960s was radical. Miles Davis and The Grateful Dead playing together in San Francisco; Sly and the Family Stone playing to a rock crowd; even hillbilly music was given an update (though interestingly, the genre's old guard, people like Roy Acuff, vehemently disapproved of "long-hairs" playing country, especially in locations like The Grand Ole Opry). One of the most striking things about the record is not that it's rock merged with country, but that most of the songs are original. Parsons' aforementioned records featured a majority of covers, but
Gilded Palace
only features two (not including a coda at the end of the last song), and those are both R&B covers. The Byrds had done this with "You Don't Miss Your Water," but The Burrito Brothers' two covers are breathtaking: "Do Right Woman" is given an incredibly tasteful performance, but their cover of James Carr's "Dark End Of The Street" may be the highlight of the record. Their ability to merge black and white music in such a direct yet forgotten about way is still breathtaking. This leaves nine original songs, and for a record that's part of a genre that's so built on covers and reinterpretation, Parsons's ability to pen such amazing songs is another wonderful thing.
From the opening bars of "Christine's Tune" it's clear that Parsons has mastered country music interpretation. Lyrics of a "devil in disguise" tearing apart men mixed with unbelievable slide guitar litter the song. Musically, we're also met with that kind of "You Really Got Me"-sounding psychedelic distortion guitar. The rest of the album constantly updates classic country themes with a 1960s sensibility. "My Uncle" is about hitting the road-but it's due to draft-dodging (obviously topical during Vietnam). Classic love songs like "Hot Burrito No. 2" have a similar psychedelic guitar to the one in the opening track, and "Hot Burrito No. 1" almost has a loungy, jazzy feel. For a country record, it's one of the most diverse of its kind.
"Sin City", the album's second song, is generally considered the band's high point. It achieves with one song the same thing that
Let It Bleed
does throughout an album: the 1960s are over. The song predicts the fate of a generation that will have to atone for an era of sins. A true revolutionary spirit based in moral philosophy had given way to hedonism, and it was clear then to some as it is now to many that children of the 1960s took it too far. The song's lyrics about "the 31st floor" and a friend trying to "clean up this town" are a reference to Bobby Kennedy's assassination, which, along with MLK's a year earlier and the Nixon election, certainly began to destroy the dreams of the era. It's a masterpiece of pop music and one of its most sobering moments.
The greatness of the band would not last more than an album. While their second album,
Burrito Deluxe
technically featured Parsons again and had a few nice songs, it pales in comparison to its predecessor, and Parsons had mostly checked out (and that goes double for the band's third and fourth albums). By this point, Parsons began enjoying celebrity status, hanging around The Rolling Stones and...engaging in sin. He would release two very highly regarded solo albums in the early 70s that sold poorly, he died of a drug overdose in 1973. But that first album, made during a period of considerable output for Parsons, is still a masterpiece, and its legacy and stature has only grown over time.