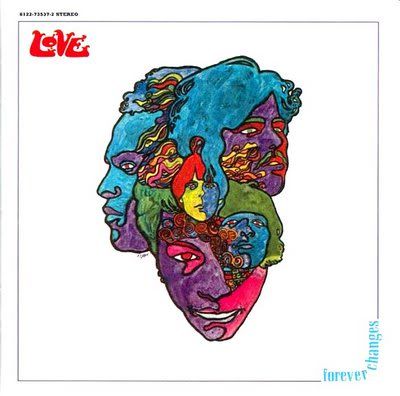 Artist
Love
Album
:
Forever Changes
Label
: Elektra
Year
: 1967
Love's third album is not only their masterpiece, but a classic of California in 1967, and that the record fell on relatively deaf ears upon release during a year that produced so many landmark albums, and now enjoys classic status, is a testament to album's quality. Psychedelia, folk, garage rock and poetry, as well as bits of jazz and Mexicali are all touched upon during the record. When looked at even closer, the background of the band makes the masterpiece seem all the more unlikely to have existed, and therefore, that much more rewarding that it does.
Love were a garage rock band based out of Los Angeles in the mid-1960s. Like their peers and city-mates,
The Standells
they were playing a grittier brand of American garage rock rather than leaning towards the tamer, hippie-based sounds of San Francisco. Early singles like a cover of "My Little Red Book" (from their debut) and the scorching "7&7 Is" from their second album
Da Capo
gained the band attention. Of course, drug addiction and unwillingness to tour kept the band grounded. (They also maintain that race was a factor, but that seems unlikely to me. They were the first rock band signed on Elektra Records, and while they were soon followed by The Doors, who enjoyed much more success, their had been black folk artists before. Why would the label hold back one of their own acts because of race? It makes more sense that their lack of success can be attributed to them
never leaving town
). By the time they set out to record
Forever Changes
, frontman/lead-songwriter Arthur Lee was leaning towards recording the album
Pet Sounds
-style, with session musicians playing the songs instead of the band. The early results weren't "gritty" enough for Lee, and he decided to let his band back in the mix. Certainly this tension might've hurt the intra-band relationship, but I suspect it contributed to the quality of the music, as well.
Forever Changes
sounds like it was created under the exact conditions I just described. Lush orchestrations and arrangements are matched note for note with ferocious playing and ominous lyrics.
Lee
maintained he felt he was going to die at soon, and wanted this to be his final piece, and the lyrics of the album can be attributed to that. Every song on the album features haunting lyrics, such as: "Sitting on a hillside/watching all the people...die/I'll feel much better on the other side"; "This is the time in life that I am living/and I'll face each day with a smile/for the time that I've been given's such a little while/and the things that I must do consist of more than style." There's something about the words that, while generalizable, feel more personal coming from Lee than many of his 1967 counterparts. Perhaps this could be his use of the first person, and not "we" (or "you") in many of his songs. These song lyrics are of a spiritual nature, and rather than the second person calls to arms of Jefferson Airplane (feed YOUR head) or Jimi Hendrix (are YOU experienced), Lee never really invokes the rest of the world into his songs, unless he's putting them into perspective through his personal feelings. (I know a lot of this/all of this is my interpretation, and I'm sure there are contradictory examples and other first person spirituality from this time, but I can't think of them off the top of my head, so be it).
Apart from the beautiful lyrics, the music is truly one of a kind. Mexican horns/guitar playing litter tracks like "Alone Again Or" and "Live And Let Live." Ferocious guitar playing is also featured on songs like "A House Is Not A Motel." The group may not have any longer been the simple garage rock band they were just months earlier, but they come off as one of the tightest rock bands of the day with this release. Surrounded by lush orchestration, the album is just gorgeous.
Stories go (from the
Love Story
documentary and Wikipedia) that the group got kicked in to shape after Lee had temporarily dismissed them, and they were motivated NOT to mess up after this. Though the album they produced at that point is a classic, Lee kicked the rest of the band out afterwards, and Love released a few more unremarkable records. The band also had trouble on their final tour with Lee in the 2000s, and quit mid-tour. Lee was known to always have drug and eventually legal troubles, so its hard to say who really "held them back" during the 1960s (likely: they all did). But
Forever Changes
is an undisputed classic whose status among music fans is now far greater than most of their peers.