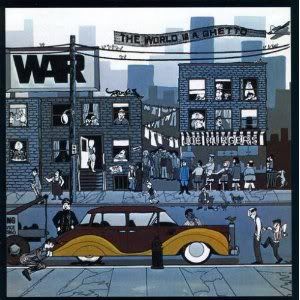 Artist
: War
Album
:
The World Is A Ghetto
Label
: United Artists
Year
: 1972
By 1972 War were fully confident and one of the most engaging funk bands around. After parting with Eric Burdon a few years earlier, their first two albums as their own act,
The World Is A Ghetto
delivered on their commercial promise, and would become their finest album. Thanks in part to those roots with Burdon, the group also drew heavily from pop music of the late 1960s: psychedelia and soul mixed with their own brand of California funk.
The album begins with the sensational and legendary track "The Cisco Kid." The lyrics are a simple tale of (probably?) an outlaw described with a "man with no name" sort of style-an outlaw who plays by his own rules. Right from the outset the Latin flavor of the group is put into effect. Almost immediately afterwards introducing that sound (with tremendous piano melody helping it along) the group slides into a cool groove with a harmonica in the forefront. The feel of the album continues on the equally strong second track "Where Was You At." As songs, rather than have distinct messages, they set-up the tone of the album and the group, at least one dimension of it that is, wonderfully. Free-wheeling, sing-along, community-sounding R&B. The first side of the album ends though with an abrupt turn with the gorgeous "City, Country, City." If the first two songs emit that sound of a group of friends in the inner-city getting together and jamming on a sing-along in the middle of a hot summer afternoon (this image is certainly helped in my mind by the cover art), then "City, Country, City" paints a picture of the twilight. It's just as laid back, but the instrumental just feels like the soundtrack to a night. And that it ends side one with such a different feel is excellent sequencing.
Side two opens with "Four Cornered Room," a dark and paranoid song. It sets the tone for the rest of the album. When you're not with the friends and enjoying a day-there is such entrapment to your world. "Four Cornered Room" and "The World Is A Ghetto" both paint a tortured and limiting picture of what
that
world is like...the same world that produces the all day music--the picture on the album cover. As "Beetles In The Bog" closes the album, the feeling of the song is closer to side one's upbeat moments...but with an element of darkness that the second side has certainly placed upon it.
Though known for hits like "Spill The Wine" and "Why Can't We Be Friends," War were really one of the more thoughtful groups of their era. Their blend of Latin funk was absolutely inventive and all of their early-70s work is worth checking out.
The World Is A Ghetto
remains their landmark work and another highpoint for early 1970s funk.