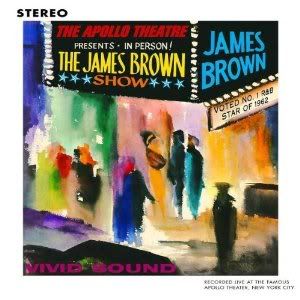 Artist
: James Brown
Album
:
Live At The Apollo
Label
: Polydor
Year
: 1963
The original Apollo concert album for James Brown was recorded in 1962. While not the funk legend he would eventually become, as evidenced by the introduction at the beginning of the album, he was already known as "the hardest working man in show business" "Mr. Dynamite" and other nicknames. As magnificent as Brown's output for the next fifteen or so years would continue to be, the album remains a testament to the greatness of an artist who still has so much to prove. While the greats' greatest work can requires more thought than the raw energy that marks their earliest works (think the early Beatles, Who, and Kinks versus their best albums later on in their career), they often have an energy in their early work which can't be replicated...likely due to the amazement and excitement they still feel early on. Not to say there isn't an energy in the later recordings or some deep thought in these group's early records...but can you think of a Beatles song more energetic than "Twist And Shout"? James Brown was still at the dawn of a brilliant career during this recording, but for sheer enjoyment and energy, nothing he ever did would top it.
The album is barely more than thirty minutes in length. With the exception of the 10-minute long "Lost Someone" each song (including the many played in a seven or so minute medley) goes by at a ridiculously fast-pace and with incredible energy. From the opening guitar work of "I'll Go Crazy" through the wonderful "Try Me" (which elicits more than its fair share of howls from the ladies in the crowd) through a cover of The "5" Royales "Think" into "I Don't Mind"...the album starts off with a frenzy. Two of those songs are played at a slower pace, but you can hardly tell considering the energy with which they are pulled off. While "Lost Someone" cools the album off before an explosive medley and the closing "Night Train," it is imperative to accent HOW energetic this record is.
There's really no live album like this one. The likes of
At Folsom Prison
are often, rightfully so, praised for their atmosphere. But it still pales next to
Live At The Apollo
. The Apollo is not the world's most intimate venue, yet when Brown screams "I GOT SOMETHING I WANT TO SAY RIGHT NOW" you get to hear his bandmate egg him on. The girls that scream at random moments throughout "Lost Someone" frequently bring out laughter and other emotions from the crowd. James Brown is the center of the show, but everyone is very clearly involved. The band is absolutely tight and magnificent. The album goes by in a fury, and Brown would go onto define a genre and in many other ways an era, but his finest moment is still this one.