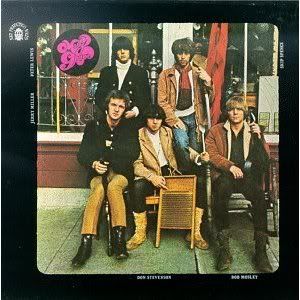 Artist
: Moby Grape
Album
:
Moby Grape
Label
: Columbia
Year
: 1967
This one's a bit of a hard sell as a greatest album ever, but it deserves to be on the list by sheer quality alone. As I look ahead to the rest of my list, it's a mixture of a wide variety of albums, all linked by being pretty standard fodder for this sort of list. Moby Grape's first record is not a music or genre-defining record. It did not have a measurable change on the course of pop music. And every subsequent release by the group falls under the category of disappointing. But for just under thirty minutes and across thirteen songs, the first Moby Grape album speaks volumes about the possibilities of group composition, group playing, group contribution, and amazing melodies. That the album has retained its popularity from just being on the fringe of the Summer Of Love is a testament to just how great it is.
Moby Grape didn't come out of nowhere with this record.
Skip Spence
was Jefferson Airplane's original drummer, and
Matthew Katz
had also been associated with the group. The rest of the quintet also had spent time in various minor bands up and down the west coast. There is a guitar trio on the album, and every band member sings and contributed to songwriting duties. Yet while in many cases this could prove disastrous or totally unnecessary, Moby Grape pull it off exceptionally. "Hey Grandma" is an immediate garage rock classic, and sets the tone for the album with soaring melodies, intricate and wonderful, but never overly complex, guitar work. The upbeat songs on the album that follow are absolutely killer, with side 1 chocked full of should've been hits, including "Fall On You" and "Come In The Morning." The classic "Omaha," penned by
Spence
was the only song to crack the top 40 (but more about that in a moment).
Still, the second side reveals an even greater songwriting prowess than the first. Bluegrass is touched on with "Ain't No Use" while the slow "Someday" and ominous "Sitting By A Window" really showcase their abilities. It's shocking to see that some of the songs on this side clock in at WELL-UNDER the 2-minute mark.
At under thirty minutes the record is an absolute breeze, and the amount of superb melody and harmony packed into it is superb. In an era that saw the excesses of rock music begin (for better or for worse) with concept albums and jams, this record remains as fresh and enjoyable as when it was released. Of course, it could not last. Columbia Records released seven singles simultaneously, thus ensuring none would chart, and only "Omaha" did. Their next record featured a record full of jams, which is the opposite of their strength. They eventually (not sure exactly which) would release a record that required the speed of the turntable to be adjusted mid-side. These gimmicks and poor songs are so sad when compared to the majesty of this debut record. Only available in a poor CD edition after the Sundazed reissue quickly went out of print, you'd be well-served to pick it up on vinyl. A real underrated gem.