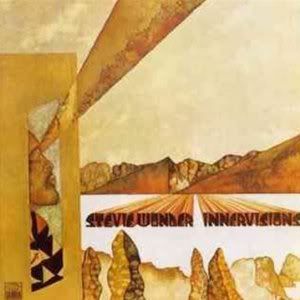 Artist
: Stevie Wonder
Album
:
Innervisions
Label
: Tamla/Motown
Year
: 1973
For his third masterpiece in two years, and the middle album to his perfect string of five albums (from
Music Of My Mind
through
Songs In The Key Of Life
) Stevie Wonder created the most political album of his career. In a lot of ways,
Innervisions
shares much in common with the other albums he created during this period of his career, certainly dominating much of the instrumentation as well as creating an incredibly diverse album stylistically. The album features, like the rest of those albums also, some sure-fire hits, some legendary tracks of his, and some of his most underrated work. What separates
Innervisions
from the others is its perfect flow and its topicality. While I do personally enjoy the songs more on this release than any of his others, I believe that it stands out so significantly in content also is what makes it his definitive release.
It would be unfair and a bit disingenuous to find any real fault with the other albums Wonder created during this period. I wouldn't call this a critique...and I'm sure this idea could be challenged, but I've never found there to be an extraordinary amount of clear organization to his albums of the era (aside from perhaps the first and last songs--the singles, really). John Bush makes this point in his review of
Fulfillingness' First Finale
on allmusic, saying that it feels more like a collection of songs than a whole unique album. While
Songs In The Key Of Life
sets out to be a concept album built around an incredibly diverse amount of musical, social, and political ideas, that isn't as evident on its predecessors. Therefore, the clear political nature of
Innervisions
allows it to stand out.
Stevie's more-politically themed songs here vary extraordinarily. They are important because just as the Civil War didn't end slavery, the end of Jim Crow laws and the Black Power movement didn't exactly end racism, either. The epic, album-stealing "Living For The City" paints a perfect portrait of this, describing the hard-ships of black families. Why should they be the ones who find themselves most often in horrible living situations with the fewest opportunities for employment? Though this album is another showcase for Stevie's lyrical talents, they pale in comparison to his music. The keyboard on the song is magnificent, and the way it builds in tension and emotion throughout the song, backed with excellent backing singers, makes it a real treat. It flows into my favorite song on the album, "Golden Lady," with deceptive lyrics that could be mistaken for Stevie pining for another girl, but really underscore the dangers of materialism (notice how the natural elements in the song are attainable, but the gold is where Stevie would only LIKE to go).
The rest of the album continues this trend brilliantly. "Too High" opens the album, but the songs I just discussed are tracks three and four. At the point where many great albums go on auto-pilot after a killer intro,
Innervisions
achieves the opposite. After side one ends, we get the hit "Higher Ground", and the second side continues the funky "Jesus Children of America", the beautiful "All In Love Is Fair", another hit with the Latin-themed "Don't You Worry 'Bout A Thing" and the Nixon-themed sendoff of "He's Misstra Know It All."
Throughout the whole album Stevie is as gorgeous and generous with his melodies as ever. No long-song overstays its welcome, and the range of emotions on display is magnificent.
Innervisions
remains one of the finest R&B albums of all-time and a definitive statement from one of music's giants.