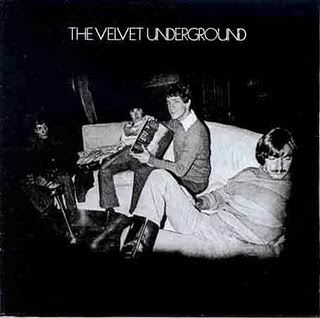 Artist
: Velvet Underground
Album
:
The Velvet Underground
(3rd Album)
Label
: Verve
Year
: 1969
The third Velvet Underground album is perfect from beginning to end and absolutely powerful. Though the first two are the ones that gained the group their reputation, and helped establish what would become rock's underground, I almost feel that more indie rock groups rip-off this third album. How many groups performed pop music
like
this at this point, and how many wrote the songs themselves? Had such diversity and such a way of delivering their song? What kind of group before them released a song like "Pale Blue Eyes" before they did? I really can't think of any. This third album is so unbelievably gorgeous, and every little detail is fantastic.
Just why the group went from the feedback-soaked rock and roll attack they had perfected to such a subdued effort is up for debate. Many point to the departure of co-songwriter
John Cale
, who was the primary avant-garde influence on the band. He and Andy Warhol were both out of the picture at this point, and that new sort of freedom could have inspired Lou to do something new with his songs. Of course, I've also read (though I forget where or when) that the band had amps stolen before they recorded the album, so they had to make a quieter affair! While I doubt that story, it is pretty cool. They also brought in Doug Yule to replace Cale on this album, and his new and pretty voice for the band was clearly used differently than Cale's. Really, this is a totally new band at this point.
The album is so much more personal than the other two records. "Heroin" and "I'm Waiting For The Man" could've been about anyone, really. "All Tomorrow's Parties" and "I'll Be Your Mirror" as well, and though they all reflect the singers (and are really great songs), you never get the impression that they are limited to being about/for Nico or Lou. When you hear "Candy Says," you get the impression Lou's lyrics come from a direct conversation he's had with Candy. "I'm Beginning To See The Light" really
feels
like Lou is making a change in his life. And I know these are my subjective interpretations of the songs, but the intimate recording and instrumentation give off that impression. Similarly, "Pale Blue Eyes" "Some Kinda Love" and "Jesus" all feel like you're having a direct conversation with Lou, or reading from his personal diary.
The whole album is restrained...and by pulling back, The Velvet Underground were able to better showcase new talents. The organ in "What Goes On?" is one of the best sounds on any song on any album. And the lyrics have taken a new turn, and are more poetic than before. "Down to you is up," still resonates as one of the band's best lyrics.
The third Velvet Underground record is one of the best moves in rock history. They totally changed what they had done before, but kept the superb quality of their songs. Every moment is special and beautiful, and every song is unique. Even "The Murder Mystery" which feels closer to their previous works, fits in and kills. The third album is maybe not their most important work, but it's just as strong as the first record with song quality.