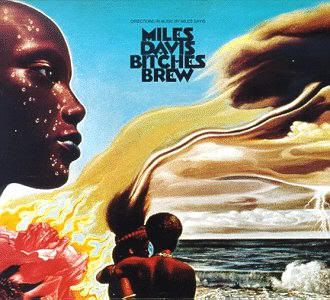 Artist
: Miles Davis
Album
:
Bitches Brew
Label
: Columbia
Year
: 1969
This is Miles Davis explosion.
Bitches Brew
is a radical departure from everything he'd done beforehand, including and especially its predecessor,
In A Silent Way
. With his movement in the direction of what would come to be known as fusion, Miles moved away from quintets, and created new dimensions for sound to exist in. Not since his work with
Gil Evans
had Miles' music been so orchestrated, and every album was a subtle step towards this bold, new direction. Whereas previous albums (
Silent Way
,
Files De Kilimanjaro
) had a feel more akin to his bop and acoustic work (in tone and volume, at least),
Bitches Brew
is closer to opening the gates of hell and attacking. It's a powerful record in a way Miles had never been powerful before. Every moment is sublime.
An attempt to sonically describe this record seems useless. Miles' trumpet is hard, no longer soft like it was back in the days of
Round About Midnight
. But the rest of the players...the lineup...they are able to make it a masterpiece. The group of musicians on the record both recalls jazz's past and looks to its future, in a way that many who came after Miles could not achieve: they didn't have the history.
Mark Prindle
points out
that the best indie bands had punk backgrounds and decided to do new things with it...but those with only indie backgrounds tend to suck. I feel that this is why bands like
The Weather Report
were bound to suck: because their background was in fusion, not jazz. So while already-legendary players like
Wayne Shorter
and
Herbie Hancock
and
Larry Young
litter the album, so does new faces like
Joe Zawinul
and
John McLaughlin
whose playing on guitar would be key to the album's greatness.
Like I've said, this is a hard album to describe. Just sit down for an hour or so and dig in.