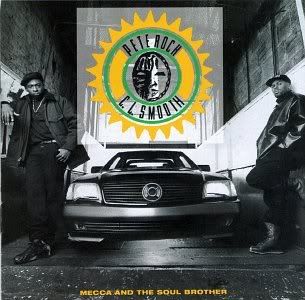 Artist
: Pete Rock & CL Smooth
Album
:
Mecca And The Soul Brother
Label
: Elektra
Year
: 1992
I want to start by saying this album is far too high, and while it is certainly one of the finest hip hop albums ever, I certainly could've ranked it a little lower. But no big: on with the review.
Mecca And The Soul Brother
is the shining achievement of superb MC CL Smooth and one of the greatest producers in hip-hop history: Pete Rock. The combination of the two is great throughout as the album defines golden era hip hop. It does so because everyone from
Tribe
to
NWA
to
Eric B & Rakim
influence the album, but the duo takes what they are doing in an entirely original direction.
Every lyric is drenched with bravado. Lyrics like "Save the sarcasm/I'll hit you like an orgasm" or "Always had an alibi/Even if I lie." The lyrics are so great because they never go too far one way or the other in the interest spectrum. Black politics are touched upon like calling on brothers to "Straighten It Out" ("All black people must: straighten it out"). "Ghettos of the Mind" achieves this well, also. "They Reminisce Over You (T.R.O.Y.)" has had its legacy grow as one of the five greatest hip hop songs ever, and with good reason. The horn sample that begins the track, and the lyrics in memory of a fallen friend are just perfect. There are movies about coming of age that don't come close to doing what the song does in just under five minutes.
And not enough can be said about
Pete Rock
's production. His samples set the perfect tone of the album. I'd be hard-pressed to find an album that more directly can be traced back to its R&B and funk roots. Rock has over the years perfected his method of sampling, and the roots go back here. Every track is soulful and uses its source material perfectly.
It's a truly remarkable album. One of the few hip hop albums that stands tall for the entire near-80 minutes. Is there a bad moment on it? Yeah, the fourth track "Love Lots of Lovin'" is weak and boring. Some people like the emotional depth it provides, but I feel the track is totally out of place. But besides that, this is the ultimate NYC hip hop album, and every moment deserves to be heard over and over.