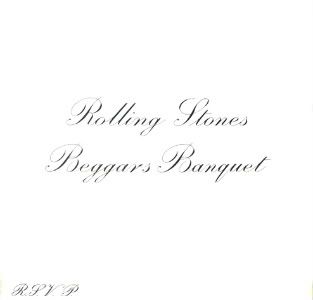 Artist
: The Rolling Stones
Album
:
Beggar's Banquet
Label
: Abkco
Year
: 1968
This was the second album I reviewed for this blog, and it can be found here:
(original review!)
. I've spent time in this blog and with friends going back and forth between this and
Exile On Main Street
as favorites, and I had been flip flopping a lot. I won't waste time comparing the two here, and just analyze this album on its own merits, again.
The first of the Stones' run of four classic albums comes from 1968. Having started out as a gritty, bluesy, garage band, the Stones began to come into their own with 1966's
Aftermath
(their first cover-free record) and
Between The Buttons
. They took a detour with a poorly-executed (though songs like "She's A Rainbow" indicate, perhaps potentially great) psychedelic record before going back to their roots with
Beggar's Banquet
. Obviously using the term "adversity" when talking about the Stones, a major label, million-song-selling band, must be understood in perspective, but like most great art, the Stones best stuff was made under adverse conditions. This album was the last to feature any shred of founding member
Brian Jones
, whose contributions are minimal and often mixed to the point of being inaudible. As a founding member, the stress of having a weak link around certainly must have been difficult. But it allowed for Jagger and Richards to fully seize control of the band, and certainly there must have been a liberating feeling for them to really have artistic control in an un-checked way...with Jones not being part of the equation (all speculation from me, but certainly with Jones as a founding member his voice must have been required to be heard before this record). The results of this album and the few that follow showed the importance of having Jagger and ESPECIALLY Richards be at the forefront of decision-making in the band.
Banquet
starts off with classic rock staple "Sympathy For The Devil," a song that actually lives up to the hype with incredible lyrics as Jagger embodies the devil, boasting about destroying old Russia, the Kennedys, and plenty other stuff in-between (don't forget how recent the Kennedy assassination was, Robert's included!). The rest of side one is brilliant, with "No Expectations" a solid old blues number, "Dear Doctor" one of their earlier country forays (though not first), and the Dylanesque "Jig-Saw Puzzle" to end the side.
Side two however is even better. It's the perfect document to show just how hell-bound these sinners were. "Street Fighting Man" calls for support with the youth, "Prodigal Son" is an old blues cover (all those motherfuckers are going to hell), "Stray Cat Blues" is about doing underage groupies, "Factory Girl" is about the innocent girl and her beauty...it's just an exceptional side.
I've written about this record plenty, and I don't have too much more to say. While
Aftermath
started off their era of releasing great albums, there didn't seem to be a unity to the sound or sequencing of the album. This is really the first Stones album that's great and is more than just a collection of wonderful songs. Fortunately, there was more of that to come!