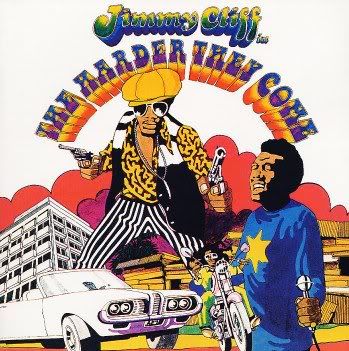 Artist
: Jimmy Cliff + Various Artists
Album
:
The Harder They Come
Label
: Island
Year
: 1972
Oh blog, it's been too long, sorry for the neglect. I will try to tackle the superb soundtrack to the film
The Harder They Come
, starring
Jimmy Cliff
who is also the performer/composer of four separate (six total, counting repeats) songs on this album. While
Bob Marley
has become the face of reggae music around the world, this album had a significant impact in popularizing the music outside of its native Jamaica, and it's breadth of styles from such a diverse group of important reggae musicians allows it to be the quintessential reggae album.
The film the album is the soundtrack for is not strongly linked with the songs. With the exception of
Cliff's
contributions, the tracks are really more of a compilation--not songs necessarily recorded for the film. While I have a staunch anti-compilation rule for best of album lists...I guess we can have one exception. But it's because of the album's importance and influence.
Bob Marley, Jimmy Cliff,
and
UB40
may be some of the only household names in reggae if not for this soundtrack. But with it, Americans were given an LP with names of
Desmond Dekker, Toots and The Maytals,
and
The Slickers
. Without a
Duke Reid
compilation, such greatness all in one place is nigh unattainable (or at least was so at the time!)
And the songs just can't be beat. Cliff was never one of reggae's heavyweights, but his four contributions here are some of the most well-loved (and with good reason) songs in the genre. Two tracks from
The Maytals
, including their smash "Pressure Drop." Every song is a winner, and they are perfectly sequenced, with the album getting better and better as the tracks go on.
I guess not being a reggae expert has made this kind of a short review for me, but that's okay. If you haven't heard this album, it's one of those "this should be your next purchase--no matter what" kind of records. It really is superb. The kind of record that turns people onto a genre.