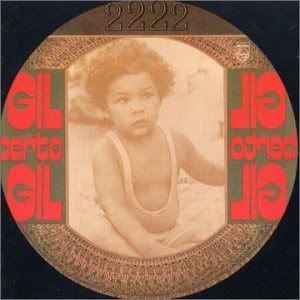 Artist
: Gilberto Gil
Album
:
Expresso 2222
Label
: Polygram
Year
: 1972
As he steps out of
Caetano Veloso's
shadow, Gilberto Gil makes one of the finest albums of all time. Certainly his best work as a solo artist, and arguably the definitive Brazilian record of the Tropicalia era. Gil gained fame alongside Caetano, and its hard, at least in hindsight, NOT to view the two as a team. Their first three self-titled records are stylistically incredibly similar (straight Tropicalia pop; a little more experimental; a longing for home during exile). Their songwriting was used by many of their peers, they both encouraged political involvement from their peers, and they were both exiled for the beliefs and practices...landing them in the UK for two years. Today
Caetano Veloso
is heralded as the Bob Dylan of Brazil and his work speaks for itself. But after 1971, while Caetano Veloso certainly released some great albums (all very different from each other), they pale in comparison to the artistic renaissance Gilberto Gil began at that time. His collaboration with
Jorge Ben
is one of the most celebrated records from Brazil in the 1970s, and his first record back in Brazil, 1972's
Expresso 2222
, is his finest moment.
The Tropicalia movement was borne out of political unrest, and certainly inspired by American music of the late-60s. The music was fuzzed out and experimental and trippy. But by the 1970s, psychedelia was no longer at the forefront of American music. Nor was it really predominant in Brazil. Many of the musicians from the late-1960s went in different directions, and Gilberto Gil was no exception. With this album, he takes an intense foray into R&B and funk. Every song is full of incredible drumming and funky bass. What's remarkable about it is how full the record is. Every instrument is incredibly clear and well-produced, sitting perfectly in the mix. Gil and his background singers all sing beautifully. The album tops out around 40 minutes, and every second of it is enjoyable.
So many remarkable albums by artists already established in their careers are followed-up by lackluster efforts. Rather than this being his last blast of glory, it started a second period of incredible creativity and rewarding music that lasted through the late-1970s. Who would have thought it would come from Brazil's second favorite Tropicalia artist?