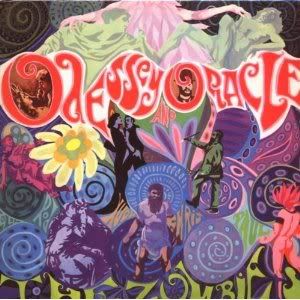 Artist
: The Zombies
Album
:
Odessey And Oracle
Label
: CBS
Year
: 1968
Odessey
(sic)
And Oracle
is one of the finest swan songs pop history. Apart from their perfect single, though, "She's Not There," before the album's recording and release, there really was no reason to believe that the group was any different than many of their peers...capable of some strong singles and certainly a good band, but nothing great. But recorded in the famed summer of love around high tensions and an incredible amount of creativity, the group was able to put together one proper album before they imploded, breaking up before the album was even released.
There is no shortage of overrated 60s icons just as there is no shortage of genius from the era that has never gotten its due. Partially recorded at Abbey Road Studios at a time where the studio also hosted recording for
Sgt. Pepper's Lonely Hearts Club Band
,
Piper At The Gates Of Dawn
, and
S.F. Sorrow
. While those albums would grow legendary in their status as classic psychedelic records,
Odessey and Oracle
doesn't really fit in with them. The Zombies album owes more to baroque pop and, admittedly,
Pet Sounds
than it does to the famed summer of love. But the group's pop masterpiece doesn't exactly come off like a counter-hippie record, either, and it's not a classic for avoiding the sounds of the day, in the way bands like
The Band
and
The Kinks
built a legacy on. Instead, the group puts together a record that spans decades both musically and lyrically.
Some of the greatest records from the psychedelic 1960s still sound dated, with single-channel drums and ridiculous lyrical content. But none of the weaknesses that characterize some great records from the era are present here. "Butcher's Tale," "Changes," and "Beechwood Park" feature exotic instrumentation, straying far from the typical keys/bass/guitar/drums instrumentation of rock records. The lyrics, generally, seem to carry a timelessness not unlike
The Lovin' Spoonful
, and they are truly simple. "The warmth of our love is like the warmth from the sun/this will be our year/took a long time to come" Colin Blunstone sings on "This Will Be Our Year." "Care Of Cell 44" is about the excitement of one's girlfriend coming home...after spending time in a penitentiary. It's that
little twist
that gives the album such a classic status. A normal topic is given a splendid twist. "Changes" is really just a song about the...uh...changes that someone has undergone and the emotional distance that creates. However, with poetic lyrics, such as "I knew her, when summer was her crown, and spring, her voice, she spoke to me" (backed up by the "Now: silver and gold..." response), the album shows that it's more than just classic pop: it's modern, too. The whispered production and excellent use of stereo on songs like "Changes" as well, give the album an excellent balance of classic and timeless.
The album culminates with the undeniable classic "Time Of The Season," which, as legend has it, almost wasn't cut right, with lead singer Colin Blunstone not singing the way songwriter Rod Argent had requested. This is an example of the tension that led to the band's eventual split. But luckily, they got this track and the album down. Not only is the track still timeless, and apt to appear in any number of movies, TV shows, and all around pop culture. The song became a smash hit, but not until after the band had split. Leading up to it are 11 other songs of an equally high quality, allowing the band to go out on top in a way so few have. Only Big Star's
3rd/Sister Lovers
better represents a band who couldn't hold it together long enough to enjoy the public's enjoyment of their own masterpiece. But
Odessey And Oracle
remains a classic, and even if it wasn't obvious at the time, it's better late than never.