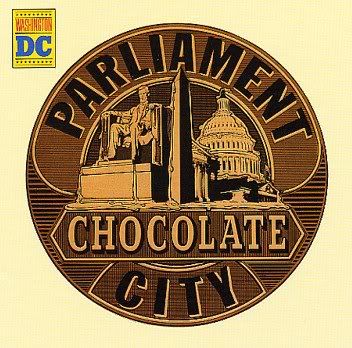 Artist
: Parliament
Album
:
Chocolate City
Label
: Casablanca
Year
: 1975
By 1975, the Parliament and Funkadelic crews were at the height of their powers. Parliament-the funk leaning group of the two-was coming off a huge hit with 1974's
Up For The Down Stroke
, and the group was really starting to be on the map. Their later albums, starting with the follow-up to
Chocolate City
,
Mothership Connection
would cement their popularity and reputation among the all-time pop music greats. But
Chocolate City
, relatively unpopular among the group's albums, is really their greatest and most triumphant moment.
In a lot of ways, as I listen to the album, I'm reminded of
Mingus Ah Um
(just jump back a few posts for my opinion on it). Mingus's record was meant to trace many of jazz roots and pay homage to his heroes, and in many ways,
Chocolate City
sets Parliament up for the future, but also gives a strong eye to the past and present of black music in America. Of course, this all occurs with a very-Parliament-esque sense of humor, and not too much seriousness in the world.
There are political songs. "Chocolate City," the title track, is a reference to the prevalence of black people being such high populations in urban areas, no longer just in the south. "We got Newark, we got Gary, someone told me we even got L.A....and we're working on Atlanta" Clinton says early on. Perhaps a bold statement at the time, his words have obviously maintained an element of truth. Clinton once remarked something to the effect of wanting to put black Americans somewhere they weren't normally found. Later on, that would be outer space, but on this album, he's happy to have them running the nation's capital. But really, that's as political as the album gets. Most of the songs really celebrate black culture and art, whether directly or indirectly.
"Ride On" is another minor hit from the album, and has certainly been heard in its share of commercials in recent years. Check out this gem from the song: "It ain't what you know/it's what you feel. Don't worry about being right/just being real." Feeling/groove/getting down--they are all critical aspects of the album. And some of the most memorable moments are just sing-alongs. The "yeah yeah yeah" part of "Together" is sensational. It reminds me of Sly and The Family Stone's finest work, especially with the bass tone...except with a more upbeat feel.
The rest of the album has the feel of classic funk. "Side Effects" deals with the hardships of a tough woman. "Force It" draws significant influence from Ohio Players. "I Misjudged You" points to their classic soul influence, clearly reminiscent of the band's 1950s doo-wop roots. And through it all there is a definite consistency to the songs on
Chocolate City
, more so than on any of their other albums. One of the finest funk albums of all-time.