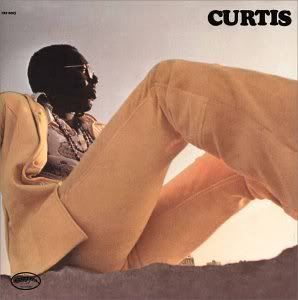 Artist
: Curtis Mayfield
Album
:
Curtis
Label
: Curtom
Year
: 1970
Curtis Mayfield's first solo album is also his best. A triumphant display of his innovative abilities, it is arguably the best record of that early-70s/late-60s time period where the line between soul and funk was still being drawn, and black artists were still incorporating some white stylings (e.g. psychedelic guitars) into their music. So much of what makes Curtis Mayfield great is also what makes him so unique: his world outlook, his soaring falsetto, message-driven lyrics, and yet the sinister undertones at the heart of it all are explored in such a rich way on the album.
That sinister-ness is never more present than in the album's first track: "(Don't Worry) If There's A Hell Below, We're All Gonna Go." While it has a title that seems damming, the reality though is that this song sets the tone for the album: togetherness. The first song condemns those corrupt and wicked in the world, and calls for people, especially the downtrodden, to stick together. With "We The People Who Are Darker Than Blue," he makes a similar plea, calling on minorities to not fight with each other, but get together. This togetherness is coupled with a yearning by Mayfield for people to achieve greatness in life.
Curtis Mayfield always wanted people to be the best they could be. His songs with
The Impressions
included "Keep On Pushin'" and "We're A Winner," and that sentiment is maintained on this album. "Move On Up" (all glorious 8-minutes of it) declares "Keep on pushing/take nothing less/not even second best." Beyond just telling people to reach for their dreams, he's celebrating the people who haven't gotten their just due, and does so beautifully in "Miss Black America" (a celebration of black youth) and "Give It Up" (the black mother).
What makes the songs so beautiful is the instrumentation.
The Impressions
always had a soul style their own, instrumentally similar to more upbeat music, but never really making "dance" songs, and Curtis takes that to another level here. Big horns, strings, and exquisite production are all a part of the album. Few albums are as much of a joy to listen to as they probably were to make. If you've heard Curtis Mayfield's 1971 live album, you know there isn't an unpleasant bone in the man's body. His music is a direct extension of his philosophy and way of living life, so for such a beautiful man, it's no surprise such beautiful music flowed from him.