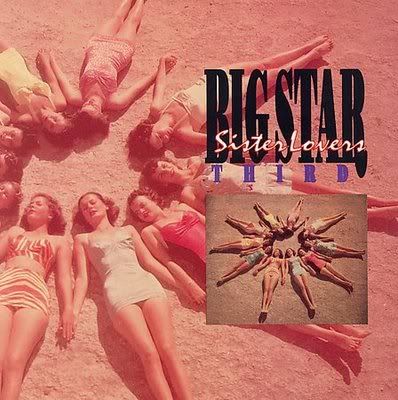 Artist
: Big Star
Album
:
Third/Sister Lovers
Label
: Rykodisc
Year
: 1978 (recorded 1975; Rykodisc 1992)
I began working on this post a month ago, and am going to try to salvage what I have. I think that's pretty appropriate considering the album I'm reviewing!
From one of the most gloriously uplifting albums to one of the most gloriously distraught, Big Star's final album (sans a reunion in 2005) is one of the most haunting and tragic masterpieces of music. Though known for their incredible ability to write melody around glorious harmony and shining guitars, today, Big Star's reputation also largely rests on this, their final album as an active rock band. For all it's melodic gorgeousness, the fact that it is an album that almost never happened, and in a way, was never completed, adds to its legacy tremendously. Few albums capture the sound of a band going through what these guys were experiencing, and as I maintain, that aides in one's appreciation of the album immensely.
Founded in 1971, Big Star was the brain child of
Alex Chilton
(formerly of 1960s soul-pop group The Box Tops) and
Chris Bell
. Andy Hummel and Jody Stephens rounded out the lineup...and as the name indicates...the group had big dreams. Unfortunately, the dreams never coalesced...and a lack of commercial success, mixed with booze and drugs and in-fighting saw the group all but broken up by 1975.
The strength and majesty of the album is two-fold...it's mystique and beautiful melodies (that are a part of the former). Many (hell, most?) classic albums have a story: a band with a purpose gets together in some definitive situation at the height of their powers and either methodically and systematically, or just because they are that damn great...bust out a classic. But Big Star in 1975 were broken and bruised. And the album they produced...well it sounds nothing like what built their early albums: chiming guitars, gorgeous harmonies, and a class rock and roll feel.
///Re-picked up in November.
The album as it stands now opens uncomfortably with "Kizza Me." While a strong track and great opener with lots of energy, the dark instrumentation is a radical departure from what came before for the band. Guitars are incredibly low in the mix, and a bizarre piano track and fuzz bass dominate the mix. The following song, "Thank You Friends," is a little more "polished"...and some gorgeous melodies open up the song...and there's even a guitar solo reminiscent of the first two records. With "Big Black Car," we have the band's slowest and darkest song yet, and these three opening songs pretty much summarize the album. There are really odd-ball rockers, with a traditional Big Star melody but that really don't
sound
like them; there are some dark songs that often sound as if they are about to fall apart; and there are even a few beautifully composed songs that hold together so well, they almost sound out of place. In the first category, along with the opening track, you have "You Can't Have Me" and "O, Dana" which also have a strong, very audible fuzzy bass and piano riffs. The frustration inherent in each song and the fact that with a different arrangement these could sound more "like" Big Star might be related (I wanna feel you kizza me!; O, Dana, come on!; You can't have me, no not for free!"). What often gets the most attention when discussing the album, and rightfully so, is perhaps the slow songs. The way they constantly sound like they are falling apart is magnificent. The way Chilton ends the bridge in "Big Black Car," holding out the last lyric ("It ain't gonna lassssss...t-ah") is not dissimilar from the weakness he exhibits in "Kangaroo" where a perfectly used cowbell seems to be exemplifying his despair. There is also my favorite song on the album, "Nighttime," whose closing lyric "Get me out of here, get me out of here...I hate it here...get me out of here" accompanied by a stand-up bass, sounds like it sums up all of the anguish Chilton must have felt at this point.
The album is rounded out by some well put together songs, too. "Stroke It, Noel" and "Take Care" have gorgeous string melodies (and apparently, the use of strings was inspired by Jody Stephens wanting to use them on his contribution to the album "For You"). Whereas the rest of the album sounds messy and falling apart (which again, adds to its greatness) these songs don't, almost making it feel that if the band hadn't been so desolate, the rest of the album might have sounded this way. We can only speculate at this point.
If ever there were an album that required knowledge of its back-story to help understand its greatness...this is certainly it. It's a truly difficult album to get into that I'm sure many are turned off by after hearing the charm and melody in the band's first two records. But many, after repeated listens and a lot of patience (myself included) seem to finally come around to the record. How do artists whose masterpieces go ignored or unheard feel when they eventually get their due? Chilton has passed, and never really seemed keen on discussing the past, so we may never know. But this album deserves to be cherished, and fortunately, it seems like these days that it is.