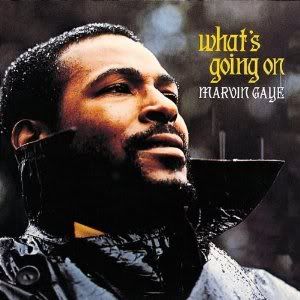 Artist
: Marvin Gaye
Album
:
What's Going On
Label
: Motown
Year
: 1971
Marvin Gaye's masterpiece,
What's Going On?
has only grown in importance since it's 1971 release, now forty years ago. The question mark's absence isn't a mistake. As Marvin says in the title track, "I'll tell
you
what's going on." A statement of purpose that at the time had substantial impact. Few commercial R&B artists got involved and became topical in the way that Gaye did with this release. More importantly, however, it was a call for those same artists to take more artistic control of their work. While certainly not the first R&B artist to take control of his career, Marvin's influence on the likes of
Stevie Wonder
and
The Temptations
, among others was huge.
Marvin Gaye got his start on the Motown label, and scored a wide-variety of hits throughout the sixties. As the decade wore on, however, Gaye became disillusioned with the material he was performing. Along with the obvious changing signs of the times around him in public, his brother returned from Vietnam with horrific tales about what he'd experienced. All of this drove Gaye's desire to create a more "important" album, and after releasing the title track as a single gave him a smash hit (thus burying Motown President Berry Gordy's fear about the music), he worked on the album through 1970 and in 1971,
What's Going On
became the biggest selling Motown LP ever. With it, Gaye became a leader for R&B musicians taking creative control of their careers, and the 1970s became a decade where the entire genre went from singles-to-album based. The success of groups like Earth, Wind, and Fire, Ohio Players, Parliament, Stevie Wonder, and countless others, is due in some part at least to the success of
What's Going On
.
But as I feel has become a theme for these albums, none of this back-story of the album really means anything without also noting the superbness of the music. Working with
The Funk Brothers
(Motown's house band throughout the 1960s and until the riots in Detroit that led for the label's HQ to move to LA),
What's Going On
was not only topically, but technically advanced in ways Motown hadn't seen before. Gaye's incredibly influential vocal harmonizing/doing background with himself is fully on display here. (What would hip hop music be without this?). And The Funk Brothers take a jazz-y approach to playing here. The songs are not built as a series of singles (so common on Motown up to this point) but rather one cohesive album, and so they take time in every song to flex different muscles. There's no need to show off everything they can do in three minutes.
Few soul albums can claim to be as cohesive as
What's Going On
. "What's Happening Brother" is the perfect follow-up to the title track that opens the album, and "Flying High in the Friendly Sky" lends considerable atmosphere to the record, allowing the musicians to show what they can do. It illustrates that Gaye had the compositional chops to convey messages without words (something he would really expand on his next record, the mostly instrumental soundtrack to the blaxploitation film
Trouble Man
.) The more experimental tendencies displayed on the record, however, are balanced out by near perfect pop from Marvin. "Mercy, Mercy Me" and the closing track "Inner City Blues" are arguably two of his finest songs. "Right On" is one of his grooviest songs to this point, showing an influence from the likes of
War
that he would certainly use later on in his career.
Those who think context doesn't matter when evaluating music need to look at
What's Going On
. There may be soul albums with better songs, more hits and more flair (and this certainly isn't the highest-ranking album of the genre on this list). But imagine what
wouldn't
have been without this album...without
Marvin Gaye
of all people deciding to speak out...and to make a point about societal issues that the entire public needs to deal with, not just a limited population. If
Let It Bleed
marked the death of the 60s,
What's Going On
shows that some people weren't giving up the fight during the "me" decade.